My family loves potatoes and they think they must have potatoes or something similar with most meals, and I really can't blame them. However, baked potatoes and mashed potatoes get old after awhile and I needed new ideas. As I was browsing some cooking blogs I came across these potatoes and they looked easy and tasty.
The best thing was they were a huge hit with all of those in my family, and I will definitely be making them again.
Roasted Parmesan Potatoes (adapted from Meg Kat)
printable recipe
yields 4 to 6 servings
8 Red Klondike Potatoes (I suppose any red potato would work, but the Klondikes are very pretty and flavorful.)
1/3 c. Grape Seed Oil (Extra Virgin Olive Oil would work as well)
1 tsp. garlic powder
2 tsp. salt
2/3 c. Parmesan cheese (fresh grated works best, but shaker style will work in a pinch.)
fresh cracked black pepper
1.) Thoroughly wash your potatoes, leave the skins on. Cube potatoes
2.) In a large bowl toss the potatoes and oil together.
3.) In a small bowl mix together the garlic, salt and Parmesan cheese.
4.) Toss the Parmesan cheese mixture with the potatoes.
5.) Spread the potatoes out on a baking sheet and sprinkle with cracked pepper to your taste.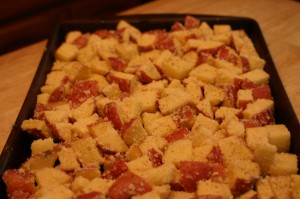 6.) Bake at 450° for 25 minutes, stir the potatoes; reduce the heat to 350° and bake an additional 50 minutes, stirring again after 25 minutes. (The main reason I decreased the temperature and extended the cooking time is because I wanted the potatoes crispy, but also because I was using the oven to cook something with it at the lower temp.)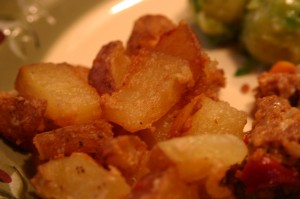 These potatoes are full of flavor and have just the right amount of crunch.