When I grew up meatloaf was a staple in our house, but I can't say it was a favorite, and the same goes for my husband. However, I knew that I must figure out a way to make sure my children had the experience of meatloaf, but packed with a bit more flavor than what we had known. Thus my quest for killer meatloaf. I would like a repertoire of different types of meatloaf, so if you would like to share yours, I would love it.
Here is what I came up with for my latest meatloaf. I hope you enjoy it.
Kitchen and Kids Meatloaf
printable version
With meatloaf it is very important you gather all of your ingredients ahead of time. It will make things a lot easier.
2 lbs ground beef
2 bell peppers, diced (I use red and orange for color, but any is acceptable)
1 onion, diced
2 c. Italian-style bread crumbs
1/2 c. ketchup
1/2 c. sharp cheddar cheese, shredded
2 egg
1 Tbl. garlic, minced
1 tsp. Accent Seasoning salt
3/4 tsp. pepper, fresh ground
ketchup for topping
1.) Pre-heat oven to 350 degrees.
2.) Mix all of your ingredients together.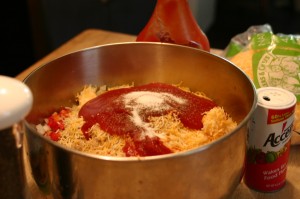 3.) Place into one large loaf pan, or two smaller loaf pans.
4.) Top with a bit of ketchup.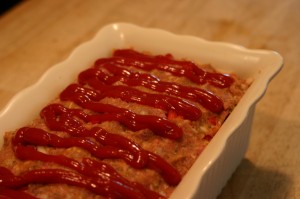 5.) Bake at 350 degrees for 1 hour.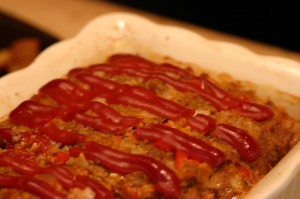 Bon Appétit!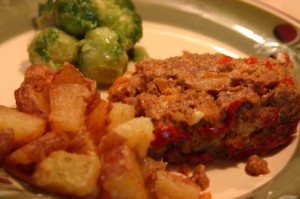 This is a favorite meatloaf at our house. However, if you are looking for a less traditional meatloaf but one packed with flavor you might enjoy my Mini Italian Meatloaves.