First off let me say I am so excited because it has been one year since I started Kitchen and Kids and I have had a blast with it. It is like watching a baby grow from a newborn to a toddler. I am really excited to see what year two will bring.
And secondly … guess what? I am done with my cooking for Thanksgiving! Yes, you heard me right. Are you jealous? Want to know my secret?
I plan most things in advanced, and simply bake them the day of. So tomorrow my oven will be in overdrive; it is a good thing the turkey doesn't have to go in the oven. We are actually frying one turkey, smoking another one, smoking some ribs as well as a brisket. Taking care of the meat is my husband's job. This year the mom's have the pies and I have all of the side dishes. I feel like I got off kind of easy this year, maybe it has to do with being six months pregnant.
Enough about my good fortune, I wanted to share a family favorite with you. I know you probably have your menu planned out, but just in case you are looking for something fantastic to do with sweet potatoes, I thought I'd share.
Crunchy Sweet Potato Bake
(adapted from Taste of Home)
printable recipe
Since my mother-in-law is diabetic, I try to make these as friendly as possible for her since she loves them. It is a challenge to do because they are sweet potatoes, but if I use Splenda instead she can at least have a small amount.
Gather your ingredients ahead of time, it will make things go together smoother.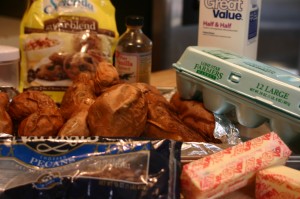 3 c. mashed sweet potatoes (I use 3 to 4 large sweet potatoes, which I bake in the oven at 400 degrees for about 1 hour to 1 1/2 hours, until tender. I let them cool completely, peel the skin off by hand and mash in my Kitchen Aid.)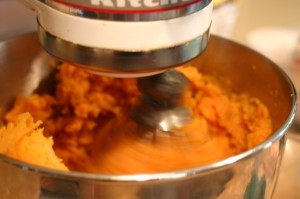 2 eggs
1/2 c. Splenda
1/4 c. half and half
1/4 c. butter, softened
2 tsp. pure vanilla extract
1/8 tsp. kosher salt
Topping:
1/2 c. Splenda Brown Sugar
2 Tbl. flour
1/4 c. cold butter, cubed
1/2 c. chopped pecans
1.) Pre-heat oven to 350 degrees.
2.) In a large mixing bowl combine the the potatoes and the next six ingredients together until light and fluffy with a mixer.
3.) Transfer to a buttered baking dish.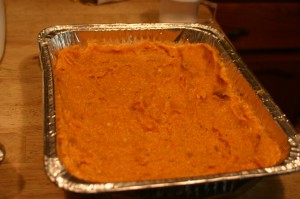 4.) Assemble topping. Combine the brown sugar and flour in a medium-sized bowl. Add in cubed butter pieces and cut in with a pastry blender or two knives until crumbly. Fold in pecans.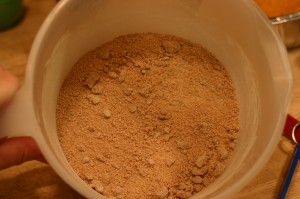 5.) Sprinkle the topping over the sweet potato mixture.
6.) Bake, uncovered at 350 degrees for about 35 minutes, until a knife inserted in the center comes out clean.  (This can also be made ahead of time, refrigerated, and then baked on the day you want to eat it. Let it come to room temperature before baking.)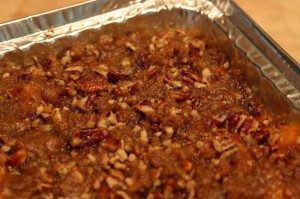 How do you make your sweet potatoes?
I hope you have a spectacularly blessed Thanksgiving.