Do you have a jalapeño fans in your house? I do! My husband for one and then my son, who has been eating jalapeños since he was 3 years old. So, when I was thinking about fudges this one seemed like a natural.
Many years ago we were at Cabela's and in their candy shop they had jalapeño fudge. My husband and son both sampled it and thought it was great; so, no this was not a completely original idea of my own. I did find, however, that when looking for a recipe there weren't any. All of the recipes I found for jalapeño fudge used CHEESE not chocolate, and I definitely did not want CHEESE.
After making this fudge I quickly bundled it up and took it off to a family gathering where it received mixed reviews. The women wouldn't try it, but the guys did and I think every one of them was pleasantly surprised. I even sent extra home with one of my nephews to enjoy.
Once again this is an easy fudge to make, so please don't be intimidated. Before my 12 Days of Fudge, I had made fudge only a handful times in my life.
Jalapeno Fudge
yield 60 pieces
printable recipe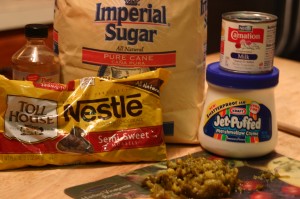 3 c. sugar
3/4 c. butter
1 (5 oz.) can evaporated milk
1 (12 oz.) pkg. semi-sweet chocolate chips
1 (7 oz.) jar marshmallow crème
1 tsp. vanilla
1/2 c. to 3/4 c. chopped pickled jalapeños
1.) Line a 9 x 13 pan with parchment paper.
2.) In a medium sauce pan combine sugar, butter and milk; bring to a full boil over medium heat; stir constantly to avoid scorching. Boil for 4 minutes. Remove from heat.
3.) Add in chocolate and marshmallow crème; stir until smooth.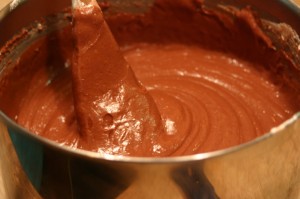 4.) Stir in vanilla.
5.) Gently fold in jalapeños.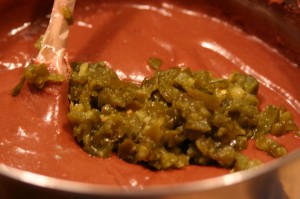 5.) Spread fudge out in pan. Refrigerate over night and then cut into bite size pieces.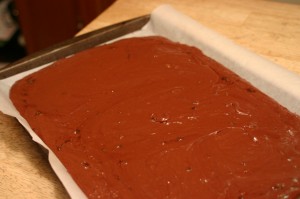 ** Due to my quickness of bundling this up for the family gathering, I forgot to get a picture of it cut and ready to eat. **
12 Days of Fudge:
Day 1: Root Beer Float Fudge
Day 2: Mint Oreo Fudge
Day 3: Oatmeal Fudge
Day 4: Key Lime Fudge
Day 5: Eggnog Fudge
Day 6: Heath Bar Fudge
Day 7: Rocky Road Fudge
Day 8: Jalapeño Fudge