When I think of Christmas treats I think of candy canes. So of course Candy Cane Fudge is a must. Also, I absolutely love peppermint, which is another reason I wanted to try to make Candy Cane Fudge.
I hope you enjoy this pretty, light pepperminty fudge. It was easy to make and yummy to boot.
Candy Cane Fudge
yield 48 pieces
printable recipe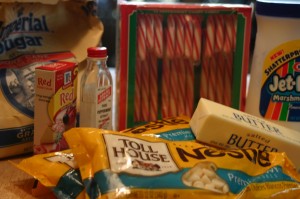 3 c. sugar
3/4 c. butter
1 c. heavy whipping cream
3 c. white chocolate morsels
1 1/2 c. marshmallow cream
3 tsp. peppermint extract
red food dye, enough to reach the color desired
7 candy canes
1.) Line a 9 x 13 baking sheet with parchment paper; set aside.
2.) Crush candy canes either by hand or in a blender; spread out on prepared baking sheet.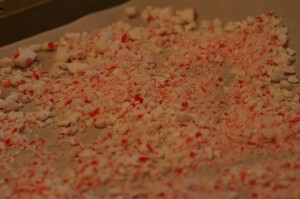 2.) In a medium saucepan, heat the sugar, butter, and cream over medium heat, stirring until combined. Bring to a boil and stir continuously for 4 minutes.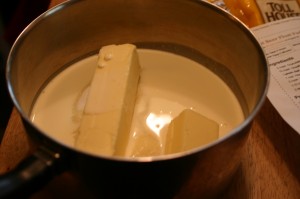 3.) Remove the pan from heat; and quickly stir in the white chocolate and marshmallow cream. Whisk until smooth.
4.) Pour half of the mixture over your crushed candy canes.
5.) Add your peppermint extract and red food coloring to the remaining fudge; stir until combined and the desired color is reached.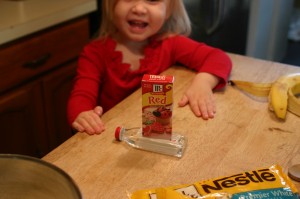 6.) Pour peppermint fudge over the white chocolate fudge. Using a knife, swirl together for a marbled effect.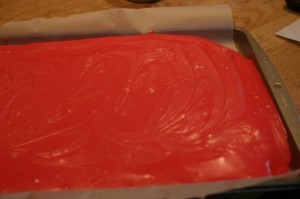 7.) Place in the refrigerator until the fudge is set-up; cut into bite size pieces and enjoy!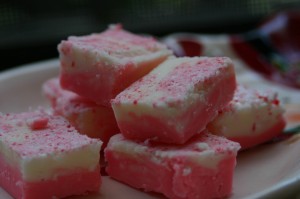 12 Days of Fudge:
Day 1: Root Beer Float Fudge
Day 2: Mint Oreo Fudge
Day 3: Oatmeal Fudge
Day 4: Key Lime Fudge
Day 5: Eggnog Fudge
Day 6: Heath Bar Fudge
Day 7: Rocky Road Fudge
Day 8: Jalapeño Fudge
Day 9: Candy Cane Fudge