A few weeks ago I participated in a cooking challenge which involved fudge, and let me just say there were a lot of people with a lot of different fudge recipes, and the one I am featuring today I found in Miz Helen's Country Cottage.
This is one of my favorite fudges because of the marshmallows and peanuts. Yummy! I reminds me of when I was a kid and my dad would take me to the ice cream shop and I would get the rocky road ice cream. Memories, sweet memories! My son also likes this fudge and I am sure my little one would like it if I would let her eat things with peanuts in it, but I don't.
It is easy to make and easy to eat, piece after piece after piece. Enjoy!
Rocky Road Fudge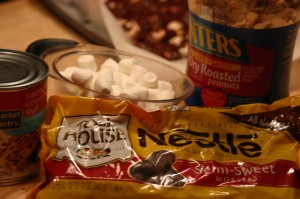 3 c. semi sweet chocolate chips
1 (14 oz) can sweetened condensed milk
1/4 teaspoon salt
1 cup unsalted or lightly salted peanuts
1 and 1/2 cups mini marshmallows
1.) Line a 9 x 13 pan with parchment paper.
2.) In a saucepan, combine chocolate chips, condensed milk, and salt over low heat stirring constantly.
3.) Once smooth and completely melted, add peanuts and marshmallows.  Stir again until peanuts and marshmallows are completely coated.
4.) Pour and spread into the baking dish.  Refrigerate for approximately 4 hours or overnight.
5.) Cut into bite size pieces.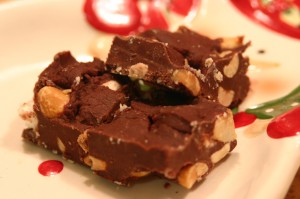 12 Days of Fudge:
Day 1: Root Beer Float Fudge
Day 2: Mint Oreo Fudge
Day 3: Oatmeal Fudge
Day 4: Key Lime Fudge
Day 5: Eggnog Fudge
Day 6: Heath Bar Fudge
Day 7: Rocky Road Fudge