I hate to disappoint you guys but I have almost run out of time for fudge. I do have one more fudge recipe that will be posted, but it is not quite ready to go up, so I decided to share with you another kind of sweet treat that I made this holiday season.
A few weeks back I stumbled upon a recipe for S'mores Candy at Baker Girl and I could not resist the picture. I just had to make them. They were delicious and gone with in a couple of days. When I made that batch I took some to my parents and my dad loved them, so much so that he is getting some for Christmas. He doesn't need anything, so every Christmas I make him his favorite treats and this a new one for him so he is getting it.
This particular candy is really kid-friendly for the ones that are a bit older and can resist touching a hot pan. The first time I made it my nine-year old neighbor  helped make them and she was excited at how easy they were to make and how tasty they were. Because of their simplicity they make a great last-minute dessert.
S'mores Candy
yield 24 pieces
printable recipe
12 cinnamon graham crackers
3/4 c. butter
3/4 c. brown sugar
3 c. mini marshmallows
4 Hershey bars, broken into pieces
1 c. semi-sweet chocolate chips
1.) Preheat oven to 350 degrees.
2.) Line a 15 x 10 baking sheet with foil; make sure to leave a little extra over the edge.
3.) Line the baking pan with the cinnamon graham crackers.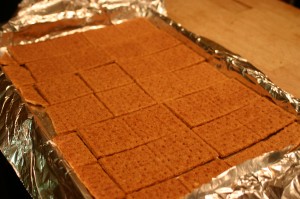 4.) In a medium saucepan, melt the butter and brown sugar over medium heat until smooth and just boiling; stir constantly.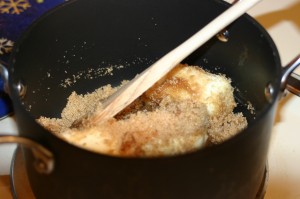 5.) Pour the sugar mixture evenly over the cinnamon graham crackers. Bake in oven for 5 minutes.
6.) Sprinkle marshmallows evenly over the graham crackers, then add the Hershey's pieces and the semi-sweet chocolate chips.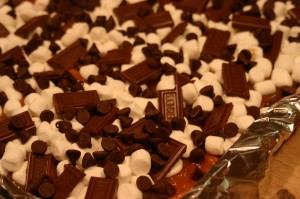 7.) Return pan to oven and bake for an additional 3 minutes, or until the marshmallows begin to soften and puff up. You could also put under the broiler to brown it a bit, and I would if my broiler worked but it doesn't.
8.) Cool completely and then break into bars.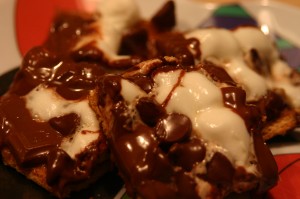 12 Days of Fudge:
Day 1: Root Beer Float Fudge
Day 2: Mint Oreo Fudge
Day 3: Oatmeal Fudge
Day 4: Key Lime Fudge
Day 5: Eggnog Fudge
Day 6: Heath Bar Fudge
Day 7: Rocky Road Fudge
Day 8: Jalapeño Fudge
Day 9: Candy Cane Fudge
Day 10: S'mores Candy