If you've noticed posts in the past I do have an affinity for salted caramel anything, so how could I turn down the challenge of salted caramel fudge, and let me tell you – IT WAS A CHALLENGE.
If you have ever done anything that entails making your own caramel then you understand that it is a daunting and sometimes unsuccessful task. This Salted Caramel Fudge barely made it out alive and it was all simply because of user error. On the upside it was a very tasty fudge.
Salted Caramel Fudge
yield 24 pieces
printable recipe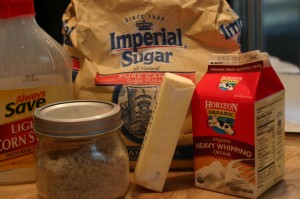 3 c. sugar
1 c. heavy whipping cream
1/4 c. butter
2 Tbl. light corn syrup
1/2 tsp. coarse sea salt
sea salt for topping
1.) Line and 8 x 8 pan with parchment paper.
2.) In a medium saucepan, lightly brown 1 cup of sugar; do not melt and crystallize.
3.) Slowly add in heavy whipping cream and the remaining sugar; stir constantly.
4.) Add in the butter, corn syrup and salt; mix well.
5.) Continue to cook the mixture until your candy thermometer reaches 230 degrees.
6.) Remove the mixture from the heat and continue to beat until thick and it loses its gloss – approximately 15 minutes.
7. ) Pour into prepared pan and sprinkle with coarse sea salt, do sparingly or it will be too salty.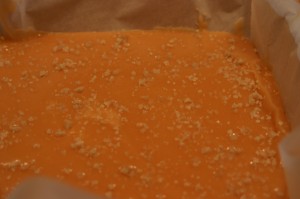 8.) Place in refrigerator to set-up; cut into bite size pieces.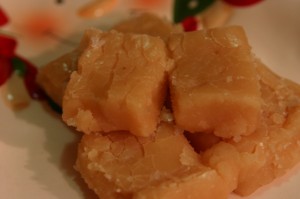 12 Days of Fudge:
Day 1: Root Beer Float Fudge
Day 2: Mint Oreo Fudge
Day 3: Oatmeal Fudge
Day 4: Key Lime Fudge
Day 5: Eggnog Fudge
Day 6: Heath Bar Fudge
Day 7: Rocky Road Fudge
Day 8: Jalapeño Fudge
Day 9: Candy Cane Fudge
Day 10: S'mores Candy
Day 11: Salted Caramel Fudge