I think planning a weekly menu is a wonderful thing! I really like knowing ahead of time what we are going to eat and a general idea of when, that way I know of any necessary advanced preparations. It also keeps me on track so I do not replicate dishes to often.
My husband's favorite dinner from last week was the angel hair pasta with parma rosa sauce topped with sliced Italian marinated grilled chicken. We had a great dinner and then enough leftovers for lunches for a few days. It was super easy to make as I had leftover sauce from the ravioli the week before. For this dinner, I marinated the chicken in Italian dressing over night, and then my husband grilled the chicken over a charcoal/hickory fire, then we placed it upon angel hair pasta covered with the sauce. It was a winner. We served it with cheesy crescent rolls and ceaser salad. Delicious!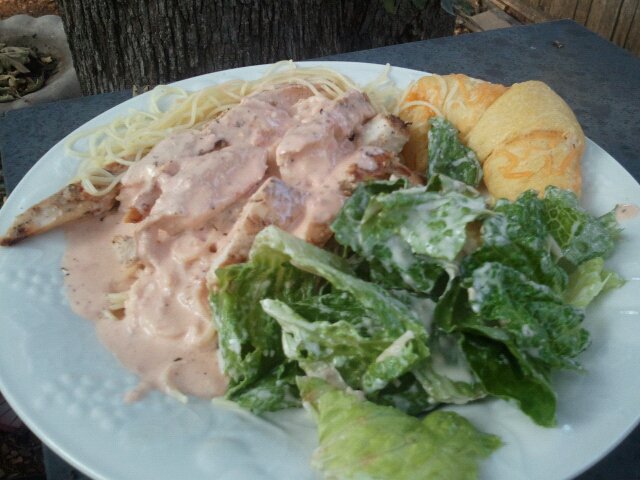 This week we are going to try some new recipes, as well a few family favorites. Also, a few of these recipes are from last week because I didn't get around to making them. I hope you get some inspiration. I would love to hear what you guys are eating this week, so please leave your menu in my comments. I need some new ideas.
Here is what we will be eating at our house this week.
Sunday: Spicy Orange Chicken and fried rice
Monday: Reuben sandwiches with homemade potato chips

Tuesday:  Parmesan Crusted Pork Chops, Smashed Fried Potatoes and Caprese Salad
Wednesday: Santa Fe Chicken Quesadillas and Cheesy Salsa Corn

Thursday: Memaw's Lasagna and garlic bread
Friday: Leftovers
Saturday: Tacos Vera Cruz (fish tacos), Spanish rice and avocado salad

As recipes are posted on Kitchen and Kids, I will link them up to my menu plans, so if something interests you check back and see if I've posted a recipe.
Feel free to leave your ideas, too. Happy Cooking!
You can find other wonderful ideas at the links below.