It seems like whenever I need to put away leftover stew, chili, soup, spaghetti sauce, etc… I spill it all over my counters. I have tried it all and it seems the most successful thing is to have my son hold a bag while I pour, but not anymore … thanks to The Bag Holder.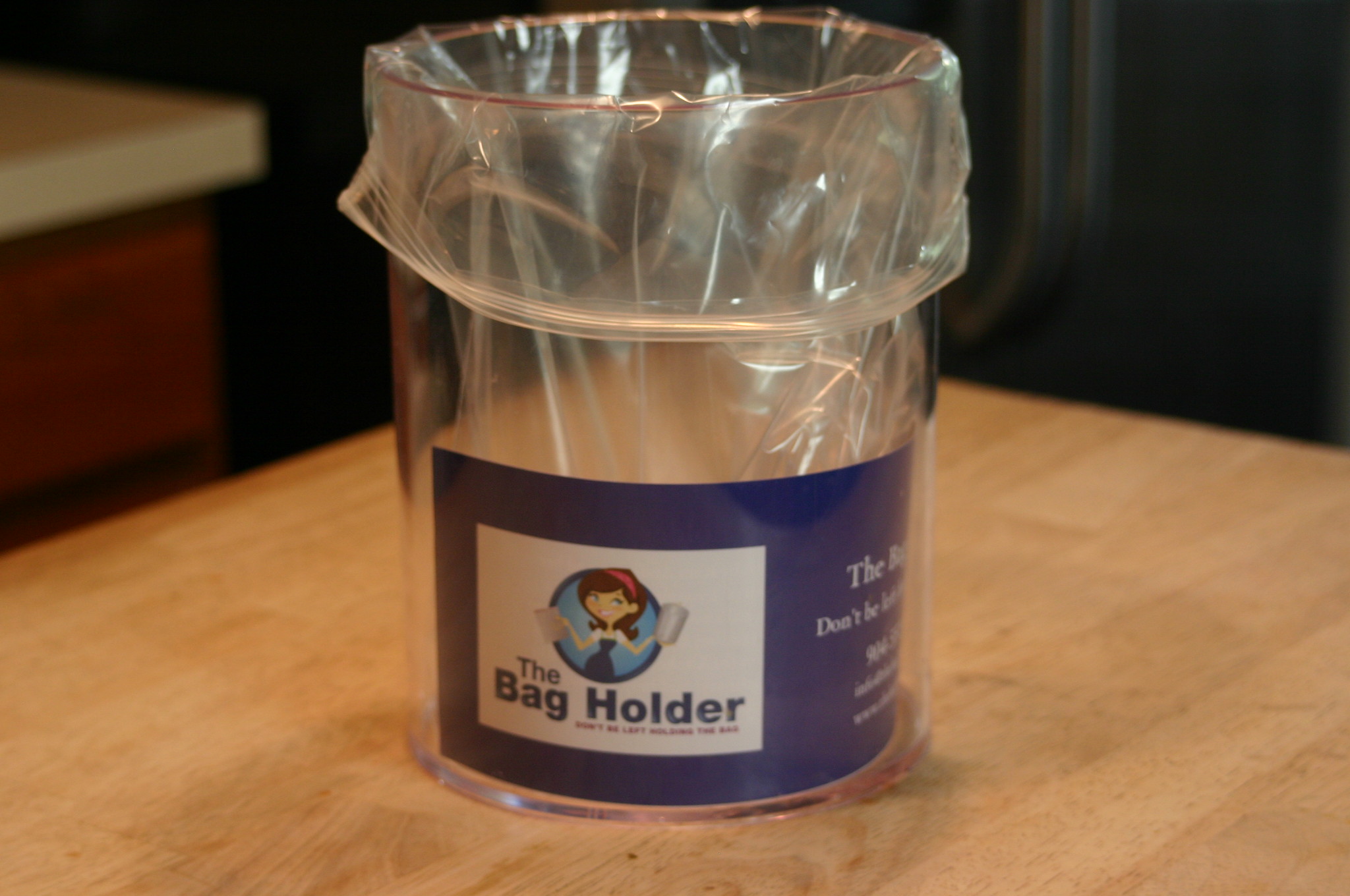 As a personal chef there are times I have to bag up foods for my clients and it is one sloppy job. A few years ago I resorted to using a pink pitcher with pour spout to hold my gallon size Ziploc bags when I needed to put things in it, however there were drawbacks to this method. One was the fact I could not use the pitcher for juice because if it is full with something else I can't very easily add a gallon size bag and more liquid – Nope, that wouldn't do. And, two the spout was a pain to get the bag over – wrestling match, and more times than not the pitcher won.So imagine my delight with The Bag Holder.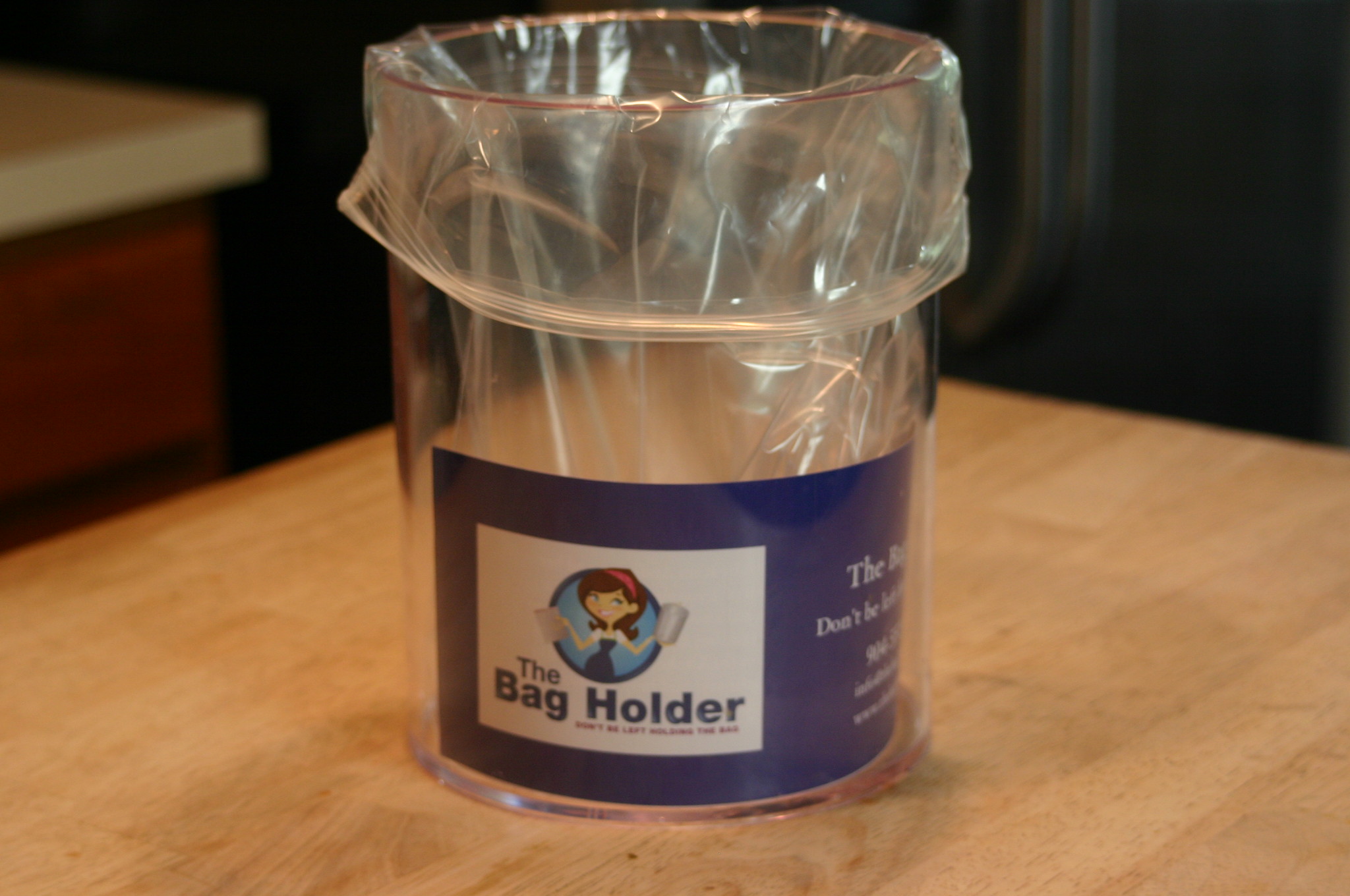 The Bag Holder is a wonderfully crafted acrylic holder that has many uses, but I have enjoyed it most for its ability to hold my gallon size Ziploc bags easily. Instead of dirtying up an array of bowls while cooking I have mixed up things in a Ziploc bag that is placed in the holder. The other day I used it for chicken pot pie – put my chicken, veggies and sauce in the bag, sealed the bag, mixed up the ingredients opened the bag and put in the pie crust. The only dirty dishes I had were the measuring cups, measuring spoons and pie plate. Talk about easy!!!
They have a lot of uses for The Bag Holder and the one I am excited to try is cupcakes. Mix up the batter in a gallon size bag in the holder, snip a corner and fill your cupcake liners. Wow, no more batter all over the counters and muffin pans!
Another thing I really enjoyed about The Bag Holder were the cookbooks I got with it. I am a cookbook addict, so I love 'em, no matter how big or small they are. Now, I will admit I did not get to try too many recipes but the one I did try was a hit with the family. It was the Paradise Chicken, and it was easy and tasty.
Here are a few pictures of the Paradise Chicken.
We also used the bag holder when marinating our Pepsi BBQ Chicken, and when I had to batter my Crispy Chicken. It made clean up a breeze.

If you would like a bag holder of your own go here and get one now.
Be on the look out for other recipes that use The Bag Holder at Kitchen and Kids, it is an invaluable tool. I have really enjoyed my bag holder and I am so glad I don't have to worry about using my pink pitcher anymore. Happy cooking!!!
FTC Disclaimer-
In accordance with FTC Guidelines for blogging and endorsements: I have received a sample product for the purposes of the review. Receiving this product will in no way effect my review as they are my own opinions and experiences from using said product.