When my husband and I met many moons ago we had a few things in common, but one stood out … our love for any kind of Mexican food or Tex-Mex. And, I believe there has only been one time in our life where we didn't have that in common … my 2nd pregnancy.
If you walk into our house and don't find hot sauce or tortillas that is a strange day (or one where I haven't got to the store, yet.) First off, both my husband and son love sauces that are hot, me not so much and secondly, you can put almost anything in a tortilla and make it yummy – I will talk about that later in my article about Kitchen Sink Quesadillas. I think if I practiced mastering Mexican cooking you would probably find tamales, enchiladas, carnitas, etc… in our fridge at all times, too.
Maybe that is what I will do this summer. If you have any good recipes you would like to share please let me know. We'd love to try them, review them, picture them and post them with a link back to you. Just a thought.
Now back to my tacos, we LOVE tacos – mainly because they are inexpensive to make and easy to put together, however, sometimes I get tired of plain old tacos, and chicken sounds good. Now, I will admit, this is probably the easiest dinner EVER, so enjoy making it and still having some quality family time.
Chicken Tacos
yield 6 to 8 tacos

Gather everything you need for this dish before you begin cooking and put things away as you finish using them – makes for an even easier dinner time.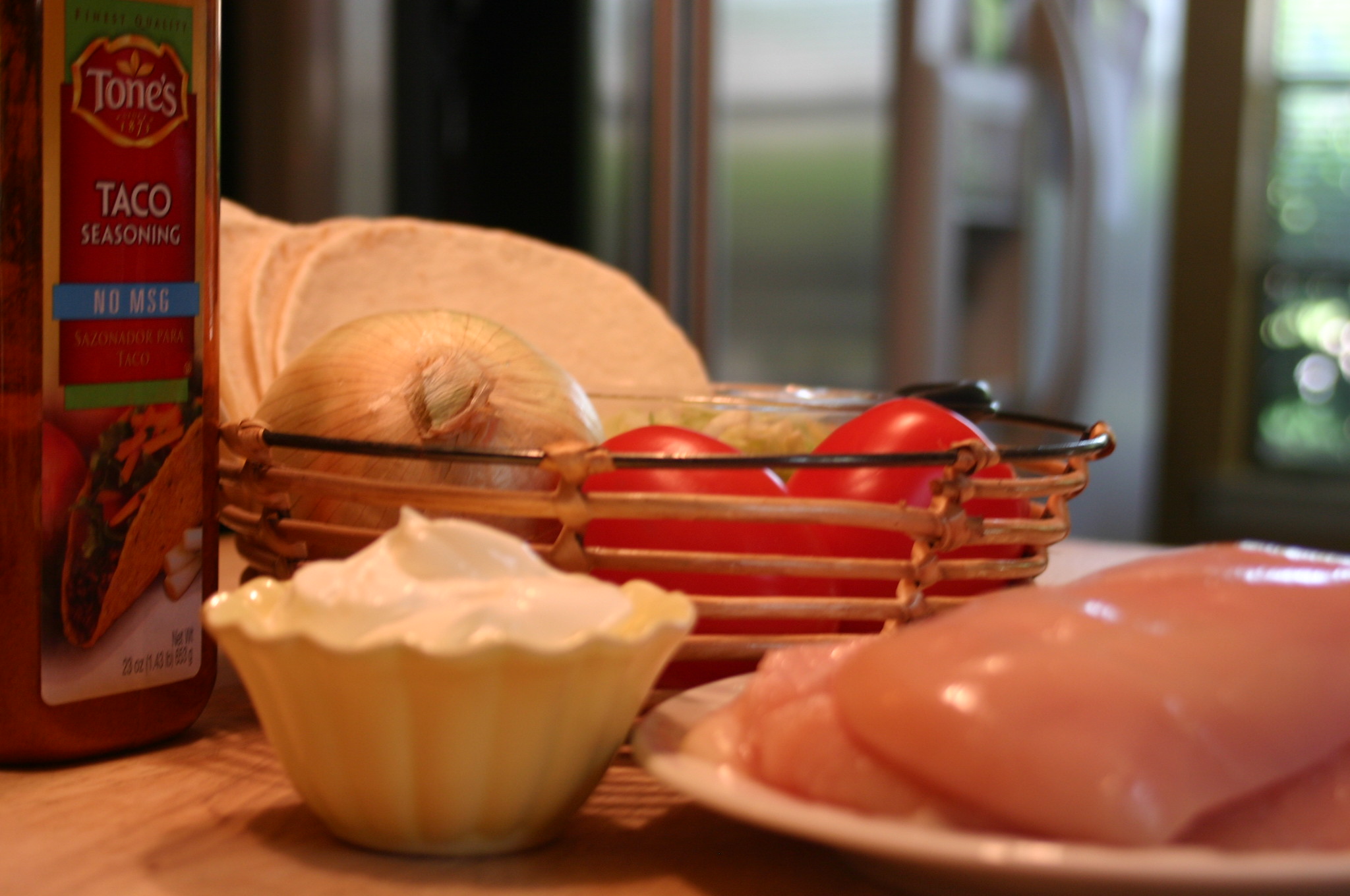 8 – 6 to 8 in. flour tortillas
1 lb chicken breast, boneless skinless, cubed or stripped
1 pkg. taco seasoning
1 c. onions, thinly sliced
1 to 1 1/2 c. shredded lettuce
3 Roma tomatoes, diced
1 c. Mexican blend cheese
1/2 c. sour cream
1.) In a gallon bag or bowl, coat the chicken with taco seasoning until all pieces are covered.
2.) Spray a large non-stick skillet with cooking spray and place over medium heat until warm.
3.) Add the chicken and onions to the preheated skillet and cook for about 6 to 10 minutes, until chicken is cooked through.
4.) While the chicken is cooking, warm up the tortillas. I steam them in my microwave with my tortilla warmer, or you could heat them in an oven preheated to 375 degrees for about 10 minutes.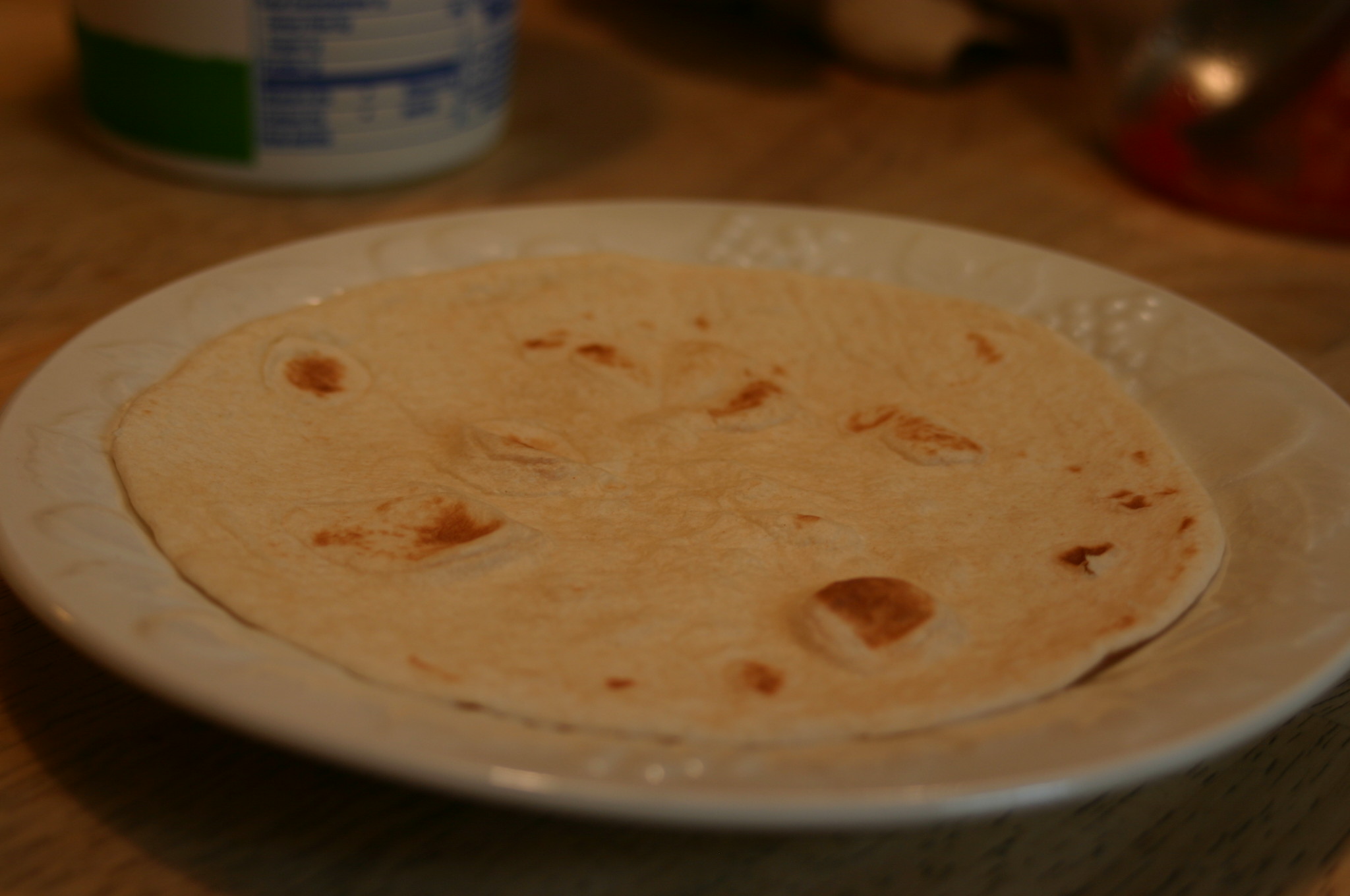 5.) Once your chicken is completely cooked and your tortillas are warmed, assemble your tacos with your toppings of choice. We put a thin layer of sour cream on the tortilla and then top with the shredded lettuce, tomatoes and cheese.
6.) After your taco is topped, fold the tortilla into a burrito-like fashion or simply in half like a taco.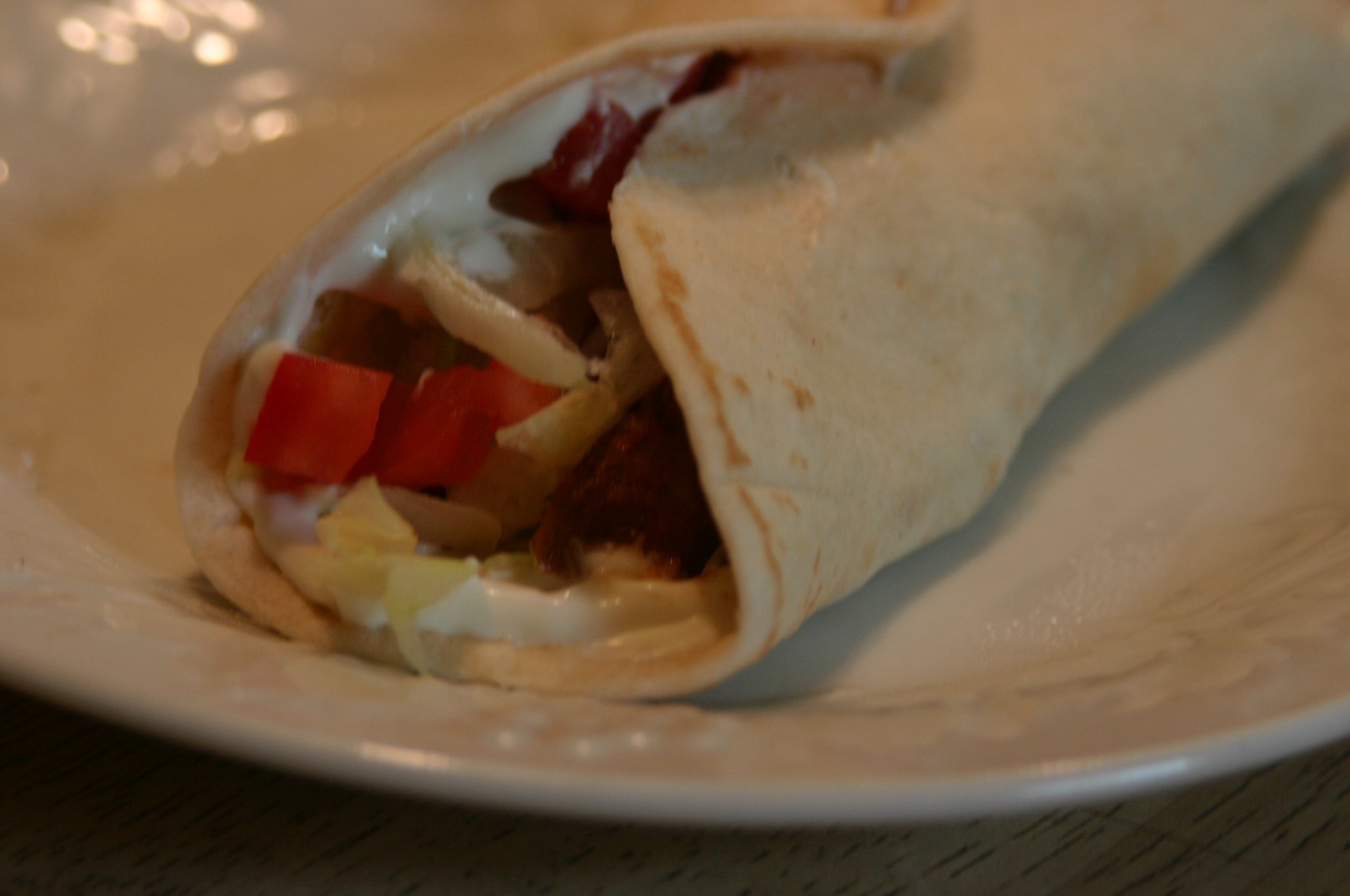 Regardless of how you fold your chicken taco I think you will completely enjoy the end product. I typically serve these tacos with green chili refried beans. (recipe below)
Green Chili Refried Beans
yield 4 servings
1 can refried beans
1/2 to 1 can chopped green chilies
1/4 c. salsa
1/2 tsp. garlic powder
1.) Combine the refried beans, chilies, salsa and garlic powder together in a medium sauce pan.
2.) Heat the beans until warm and serve with your chicken tacos or any other entrée' of your choice.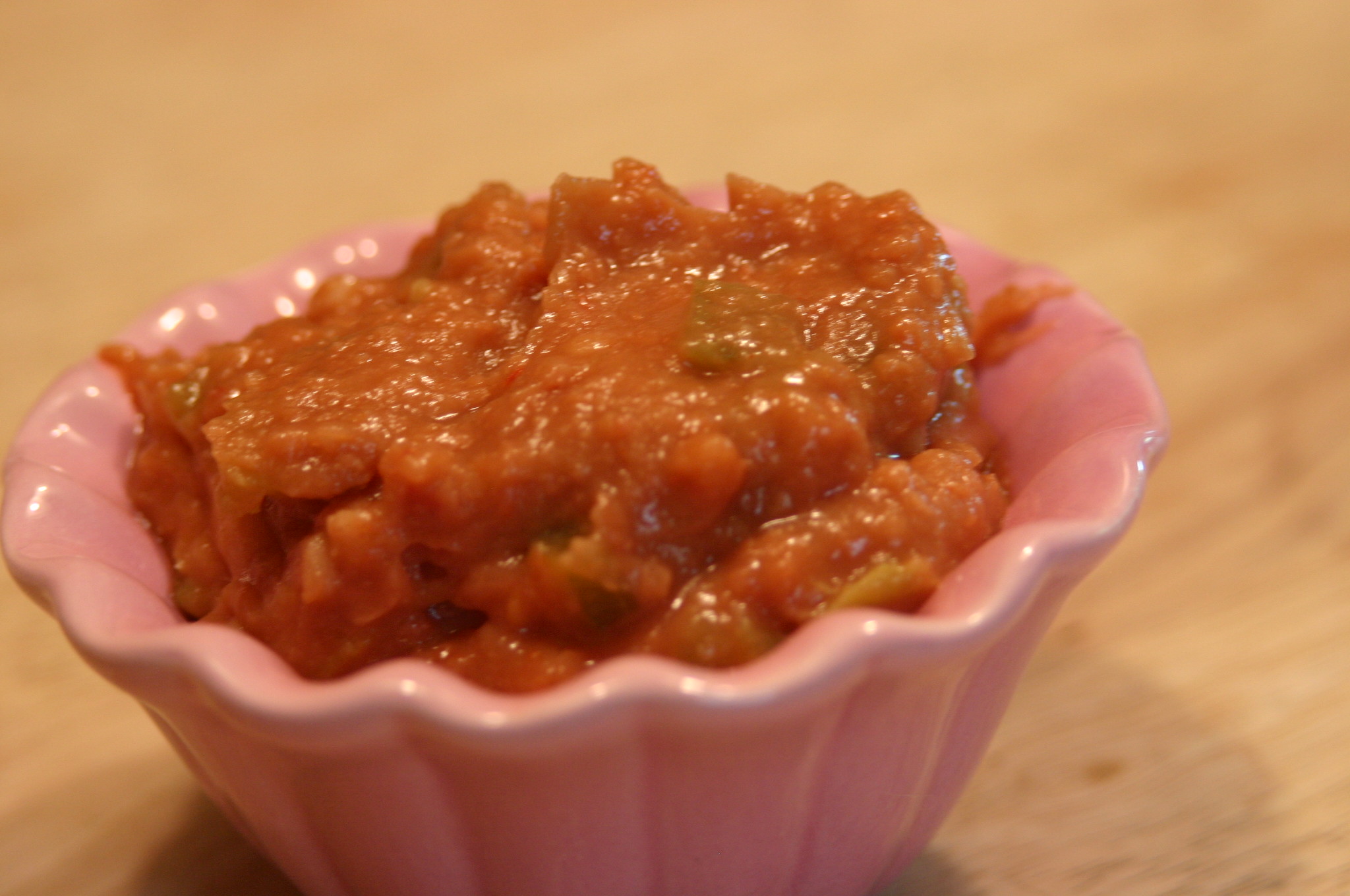 Enjoy your Tex-Mex night, and remember if you have any good recipes you would like to share please do so. Click the little blue guy to add the link to your recipe, or feel free to post in comments.