If you guys have been following my blog, then you know I started a series on Ground Beef … It's What's For Dinner about the unlimited possibilities for ground beef. Taco Cups are my latest installation to this series.
Why taco cups? Very simple, I have a messy toddler and I was trying to figure a creative way for her to enjoy tacos in a toddler-friendly way. Taco Cups are easy to make and easy to eat. Like a taco, you can add whatever toppings to your taco cups you would like.
Taco Cups
Gather your ingredients before you begin.
Taco Meat:
2 lbs Ground Beef
1 onion
2 pkgs taco seasoning
1 1/3 c. water
garlic powder (optional)
fajita seasoning (optional)
1 to 2 cans refried beans
Corn Cups:
1 c. yellow corn meal
1 c. all-purpose flour
1/4 c. sugar
4 tsp. baking powder
1/2 tsp. salt
1 egg, beaten
1 c. milk
3 Tbsp. vegetable oil
1/2 can of diced green chilies
1 /2 c. shredded cheddar cheese
Toppings: (really whatever you would use on a taco)
sour cream
salsa
shredded lettuce
tomatoes
olives
Step One – Make the Taco Meat
This step is easy-peasy! Follow the instructions on the back of a package of taco seasoning. However, you could choose to do it my way, which in all honesty, there are no instructions, I just add seasoning until I get what I want.
1.) Brown 2 lbs of ground beef with  1 diced onion, drain off fat and return to pan.
2.) Mix in 1/2 c. of taco seasoning and 1 1/3 c. water. Bring to a simmer.
3.) Add in 1 tsp. garlic powder and 1/2 tsp. fajita seasoning.
4.) Simmer meat and seasonings until the water is reduced by at least half.
Now, add in 1 to 2 cans of refried beans to your meat mixture and stir until it is well mixed. Let simmer for about 5 minutes.
Step 2 – Corn cups
1.) Preheat oven to 450 degrees. Spray muffin tin with non-stick spray.
2.) Combine corn meal and remaining dry ingredients in a bowl.
3.) In a separate bowl, mix egg and milk.
4.) Combine milk and eggs with dry ingredients; mix well.
5.) Add in oil and green chilies. Mix thoroughly.
6.) Pour into prepared muffin tins.
7.) Bake for 10 minutes, remove from oven, create a crater in muffins using the back of a spoon, or ice cream scoop.
8.) Sprinkle with cheese, return to oven for 5 min.
Step 3 – Assembly of Taco Cup
1.) Spoon taco meat in to corn cup and sprinkle with cheddar cheese.
2.) Return to oven for 1 to 2 minutes in order to melt the cheese. Remove from oven.
3.) Top taco cups with your desired toppings and enjoy!!
Warning these are very good, but slightly messy when being eaten by a toddler.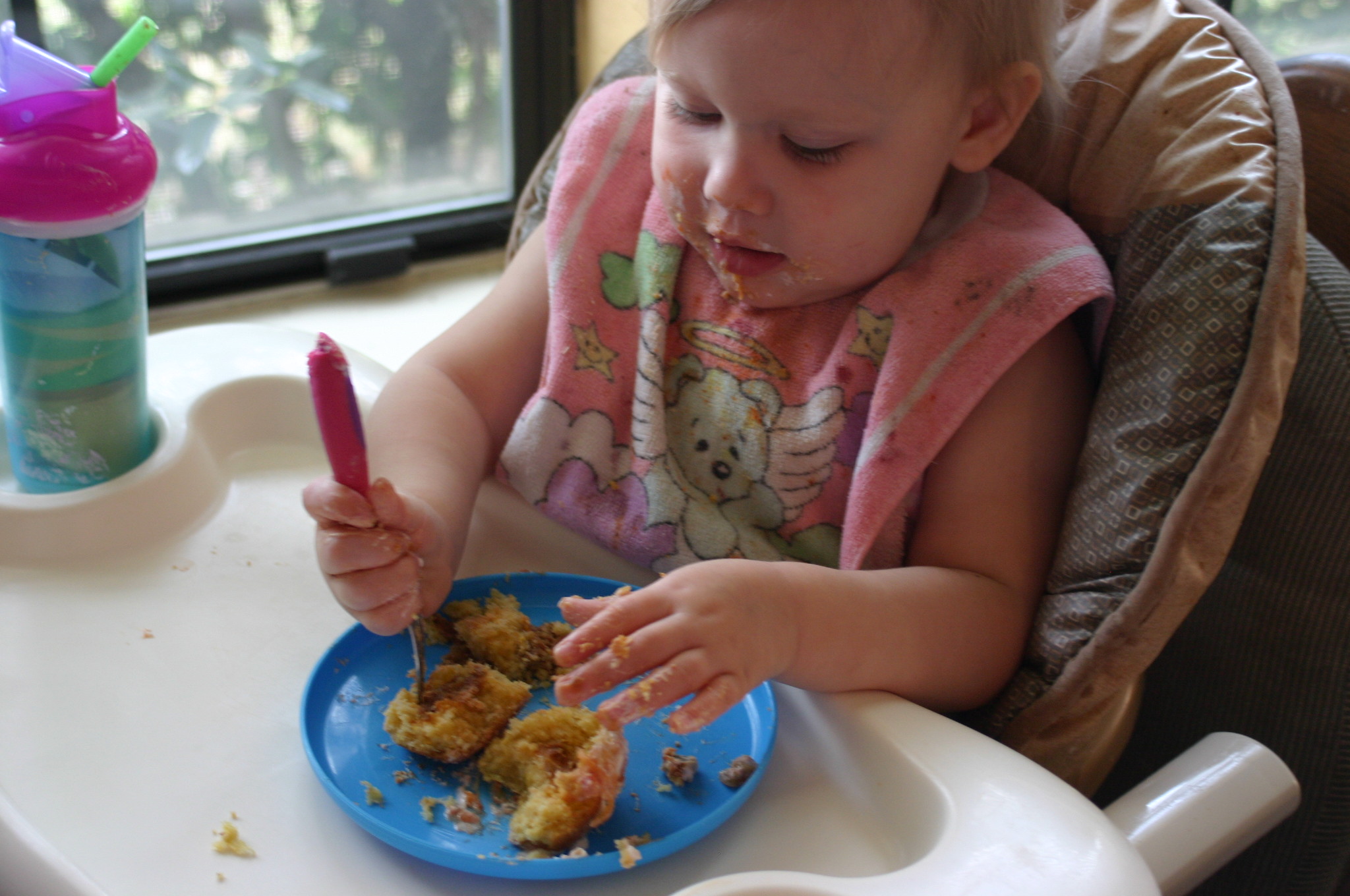 Other Things To Do With Taco Meat:
Traditional Tacos
Chalupas – pan-fry a flour tortilla until lightly crisp, top with taco meat and toppings
Burritos – wrap taco meat in a flour tortilla with cheese and sour cream. (My husband likes to pan-fry these for extra crispiness.)
Nachos
Taco Salad
I would love to hear what you would do with taco meat. The more ideas we have, the better.
Other Ground Beef Recipes:
Classic Spaghetti and Meatballs
Ground Beef Stroganoff
French Onion Salisbury Steak