The other day I was talking to my friend on the phone and she was making banana pudding – hmmm? That sounds good and easy, maybe I should make some for the boys. However, I remember the last time I made banana pudding – I didn't get ANY. It didn't even last 24 hours! Oh well, if they enjoy it, how can I deprive them. So, I picked up the ingredients for the pudding, except … I forgot vanilla wafers. I figured I would just have to make it the next day when I had time to go back to the store. Not so, once I told my sweet hubby my plans he quickly jumped in our car and sped to the nearest grocery store.
This time around I did get banana pudding, but it still did not last 24 hours, in fact, my husband was trying to get me to make more. Sorry, Dear, we don't need the extra sugar!
Oh-So-Creamy Banana Pudding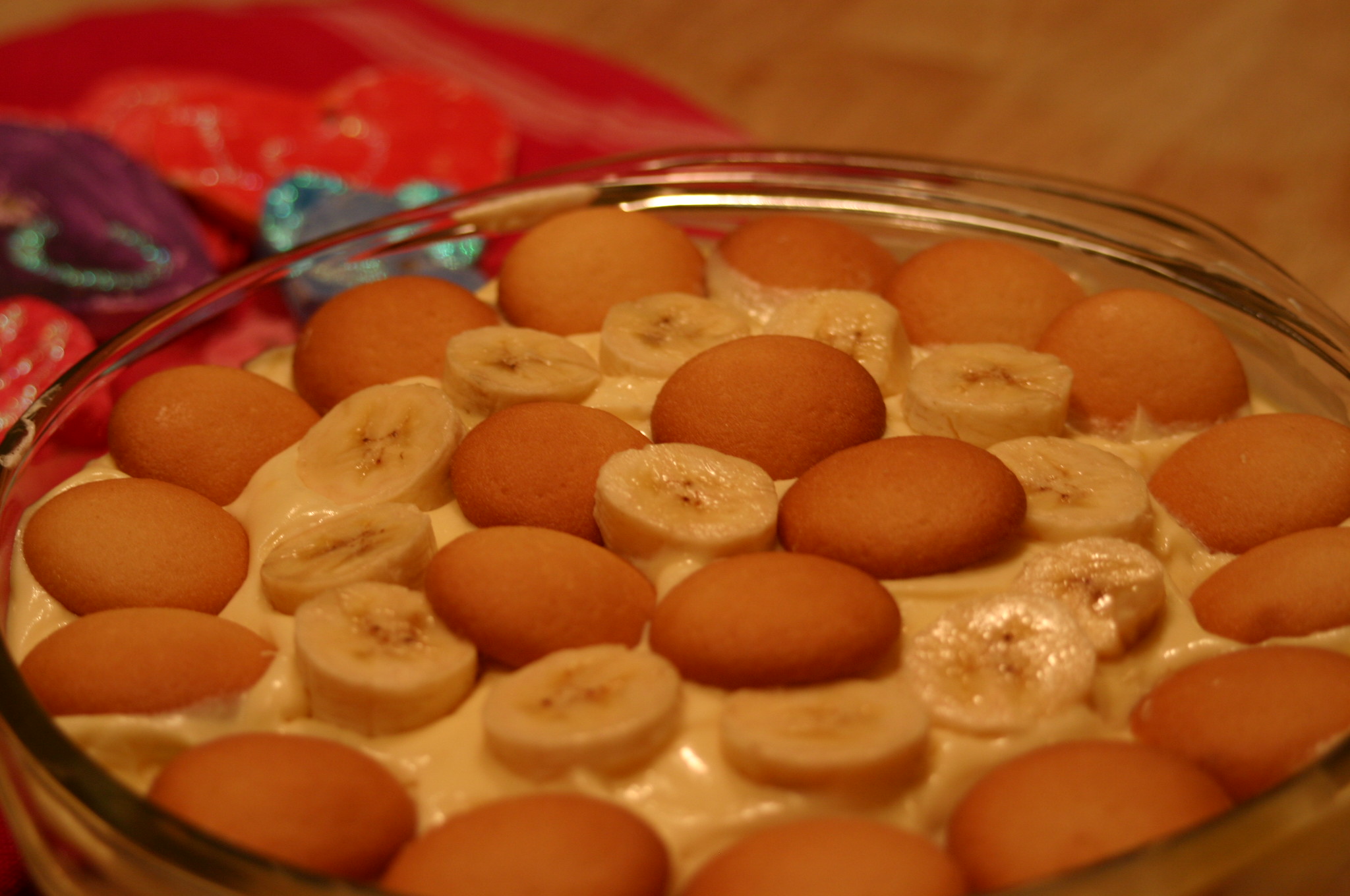 1 (14 0z) can sweetened condensed milk
1 (6 serving) pkg instant vanilla pudding
1 1/2 c. cold water
1 (8 oz) container whipped topping
vanilla wafers
5 med. bananas, sliced
1.) In a large bowl combine the condensed milk and water.
2.) Add in the pudding mix, beat well. Chill in refrigerator 5 minutes.
3.) Fold in whipped topping.
4.) Layer approximately 1 c. of pudding mix in the bottom of a glass bowl, then lay vanilla cookies around the edge of the pudding and fill in the center with a layer of bananas. Repeat layers until the pudding is gone. The final layer should be vanilla wafers around the edge with bananas in the middle.
Note – To prevent the bananas from browning you can dip in lemon juice, my husband protested this step, so we had a few discolored bananas. I should have made the pudding when he wasn't looking.
5.) Chill for 2 hours.
6.) ENJOY!!!
Other Great Desserts:
On The Twelfth Day of Christmas … Baklava
On The Eleventh Day of Christmas … Butter Toffee
On The Tenth Day of Christmas … Snickerdoodle Cookies
This post is linked to these other great blogs. Go take a look around for some other foodie inspirations.