I am all fudged out, and so is my family. With that in mind I thought I'd provide you some links to some fudges I wanted to try but didn't get around to. Enjoy and have a very Merry Christmas.
Butterfinger Fudge by Shugary Sweets
Orange Creamsicle Fudge Bites by Shugary Sweets
Nutella Fudge with Sea Salt by The Crunchy Mamacita
Chocolate Chip Cookie Dough Fudge by Melissa's Cuisine
Red Velvet Fudge by I Am Baker
Pumpkin Pie Fudge by Adventures In All Things Food
Peanut Butter Fudge by From Which Things Grow
Irish Cream and Pistachio Fudge by I Was Born To Cook
Bailey's Vanilla Bean Fudge by Carolynn's Recipe Box
Raspberry Truffle Fudge by SteakNPotatoesKindaGurl
If you get the opportunity to try these fudges I would love to know what you think. Also, you have my fudges I've made during the 12 Days of Fudge to try. They are all easy and quite yummy. Have a blessed year!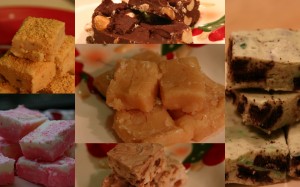 12 Days of Fudge:
Day 1: Root Beer Float Fudge
Day 2: Mint Oreo Fudge
Day 3: Oatmeal Fudge
Day 4: Key Lime Fudge
Day 5: Eggnog Fudge
Day 6: Heath Bar Fudge
Day 7: Rocky Road Fudge
Day 8: Jalapeño Fudge
Day 9: Candy Cane Fudge
Day 10: S'mores Candy
Day 11: Salted Caramel Fudge
Day 12: Other Great Fudge Recipes