Last year as a new blogger I decided to challenge myself with 12 Days of Christmas Goodies, and I must say that was one of the funnest things I have done as a blogger. So this year, after deciding to join the Crazy Cooking Challenge which challenged us to find a wonderful fudge recipe and share it, I decided to do the 12 Days of Fudge, simply because there is so much that you can do with fudge. I hope you enjoy the fudge recipes that will be posted between now and Christmas Eve. I won't be posting them consecutively because we couldn't handle the sugar overload, look for them every other day or so.
As I mentioned above I am participating in a cooking challenge. What we had to do was find a recipe for fudge from another blogger, and all I can say is there are a lot of awesome fudge recipes out there. For this challenge I chose to make Root Beer Float Fudge featured on Shugary Sweet's blog. It was a huge hit at my house and has thoroughly helped with my latest pregnancy craving – root beer. I hope you guys enjoy it as much.
Root Beer Float Fudge
yield 36 pieces
printable recipe
As I always say, especially in candy making, gather all of your ingredients ahead of time. With making fudge this could mean the difference between success and failure.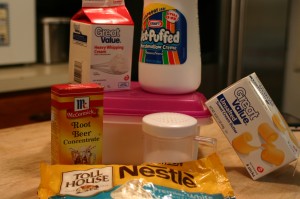 3 c. sugar
3/4 c. unsalted butter
1 c. heavy whipping cream
3 c. white chocolate morsels
1 1/2 c. marshmallow cream
3 tsp. root beer concentrate
1.) Line a 9 x 13 baking dish with parchment paper; set aside.
2.) In a medium saucepan, heat the sugar, butter, and cream over medium heat, stirring until combined. Bring to a boil and stir continuously for 4 minutes.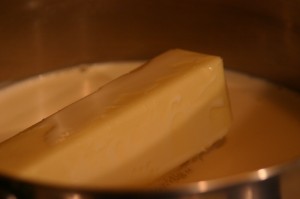 3.) Remove the pan from heat; and quickly stir in the white chocolate and marshmallow cream. Whisk until smooth.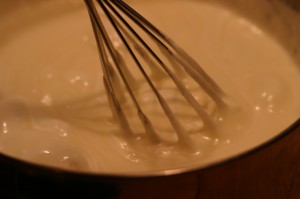 4.) Pour half of the mixture into your prepared pan.
5.) Add your root beer concentrate to the remaining fudge; stir until combined.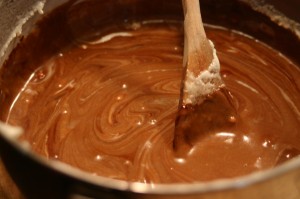 6.) Pour root beer flavored fudge over the white chocolate fudge. Using a knife, swirl together for a marbled effect.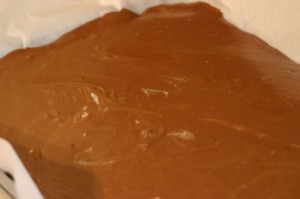 7.) Place in refrigerator for at least 4 hours. After the fudge has set up, cut it into bite size pieces and store in an airtight container.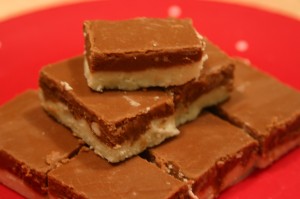 I hope you enjoy all of the other fudge recipes submitted during this month's crazy cooking challenge. Make sure and vote for your favorite fudge recipe.