My baby just keeps getting older, but … I am excited about each new stage in his life.
Gift time – gift cards and a pellet gun! Guess what he is going to use the gift cards for? Another pellet gun! Seriously … this boy has had a multitude of pellet guns. (To those concerned parents – they are soft air pellets,  and him and his friends HAVE to wear safety goggles.) He also got a new bike to replace the one stolen in the spring.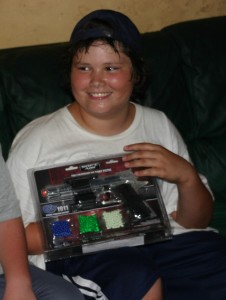 They wanted to make their own pizzas. They had so much fun and their pizzas tasted great!
After you have had a chance to see my Wordless Wednesday I would love for you to stop by my giveaway. Over 12o bloggers have come together to offer over 150 prizes with a grand prize worth over $100.
Here are some other great Wordless Wednesday posts