Last week we were really busy, but we still ate most of the items on our menu. However, with being so busy I did not get a chance to blog about anything we ate or anything we are going to be eating. Maybe this week I can get caught up on some outstanding blog posts and get them up for you guys.
My husband's favorite dinner from last week was the Tacos Vera Cruz, which were fish tacos. He really enjoys fish tacos, me not so much, but I do like these because they are light tasting and fresh. I do not have a recipe up for you yet, but I will work on that. We served the fish tacos with Spanish rice and an avocado, tomato, and onion salad. It was a super easy and very light dinner.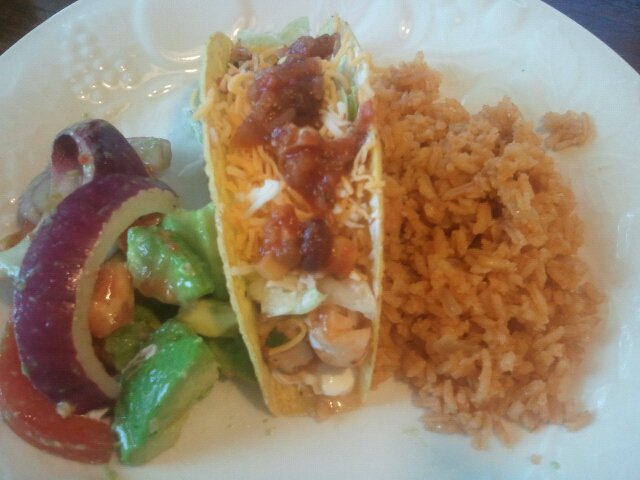 This week we are going to try some new recipes, as well a few family favorites. Also, a few of these recipes are from last week because I didn't get around to making them. I hope you get some inspiration. I would love to hear what you guys are eating this week, so please leave your menu in my comments. I need some new ideas.
Here is what we will be eating at our house this week.
Sunday: Slow Cooker Pot Roast, mashed red potatoes and creamed corn
Monday: Chicken and Waffles with roasted asparagus

Tuesday:  Parmesan Crusted Pork Chops, Smashed Fried Potatoes and Caprese Salad (since I don't have this salad on my blog, this is identical to what I do at our house.)
Wednesday: Buffalo Chicken Salad

Thursday: Cheesy Lasagna, garlic bread and salad
Friday: Leftovers
Saturday: Something quick, if we are home

As recipes are posted on Kitchen and Kids, I will link them up to my menu plans, so if something interests you check back and see if I've posted a recipe.
Feel free to leave your ideas, too. Happy Cooking!
You can find other wonderful ideas at the links below.