So what kind of foods do you crave?
Well, in pregnancy #3 I crave caramel apples, so I have been experimenting with different caramel apple recipes. My main goal is to keep the apples fresh tasting. I don't want them overcooked, I don't mind cooked, just not overcooked. My husband wants a caramel apple pie which sounds so good, but this little baby does not want pie. He wants salad, so there you have it – caramel apple salad. I also made baked apples, which I will add at a later date. I also am going to make a caramel apple crumble to appease my husband's desire. I am thinking about experimenting with caramel apple muffins; if those turn out I will add those, too. As you can see I am excited about caramel apples, and I hope you are too. You can view the recipe below and then after that you will have the opportunity to check out several other caramel apple recipes from other bloggers.
Caramel Apple Salad
printable recipe
As I always say, gather all of your ingredients before you beginning.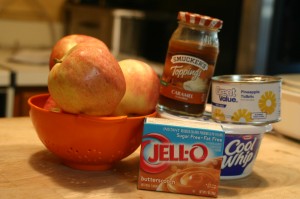 4 large apples, I prefer Gala or Pink Lady apples
8 oz fat-free cool whip
8 oz pineapple tidbits
2 – (1 oz.) boxes instant Sugar Free Butterscotch Pudding
1 jar of caramel ice cream topping
1) Core and dice the apples, do not peel.
2) Mix in pineapple tidbits with juice.
3.) Add in cool whip, mix well.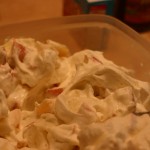 4) Thoroughly mix in the butterscotch pudding.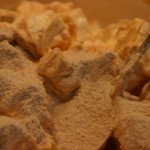 5.) Refrigerate for a minimum of one hour.
6.) Drizzle the caramel topping over the salad before serving.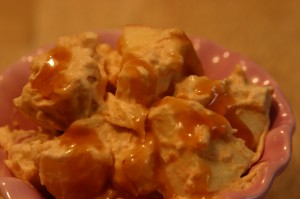 This post is part of the Improv Cooking Challenge, and I am excited to be participating. Enjoy the salad and take a look at the recipes below. You can also check out another recipe I made with caramel and apples – Baked Caramel Apple Oatmeal.