I am completely amazed at how other mom's can blog, keep house, feed their kids, be wives, and take care of a new baby; I, however, am not that great at multi-tasking, so I took a hiatus from my world of blogging to really focus on growing my little man to his first birthday. That birthday is a week and a half away, so hopefully I can jump back into blogging more often. I can say that I never run out of material since I am the mom of a TEENAGER, a little mama, and an adorable little munchkin but formatting it into words is another story.
Here is my little munchkin at 8 months old.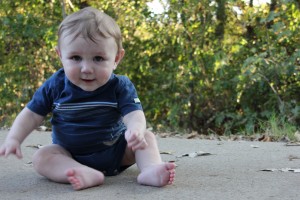 Today I am actually re-posting an article I wrote for an on-line woman's magazine, Destiny In Bloom. I know many of you might be experiencing some cooler weather and looking for some comforting soups, so here you go. I, however, will not be partaking of any soups at the moment, as our high today is supposed to be 70 degrees. Yikes!
Sausage and Black Bean Soup
print recipe

yields 4 servings
takes about 15 minutes from start to finish.
7 oz. smoked sausage, turkey sausage is a healthy alternative
1 c. diced bell pepper, green, red or yellow your choice
1 (14 oz) can  low-sodium chicken broth
1 (15 oz) can black beans, drained and rinsed
¼ c. chunky picante salsa
¼ c. chopped cilantro (optional)
1)      Coat a medium sauce pan with cooking spray and heat over medium-high heat; add in sausage and sauté' approximately 1 minute or until sausage begins to brown.
2)      Add the diced bell pepper to your sausage and sauté' an additional minute.
3)      Add in broth; bring to a boil.
4)      Reduce heat and add in the beans and picante salsa; simmer for 5 minutes.
5)      Top with cilantro and serve.
We like to eat this soup with cheese quesadillas.
Peasant Soup
print recipe
yields 10 servings
slow cooker soup, but can be made on the stove as well with decreased cooking time
14 oz. smoked sausage, cut into slices; turkey sausage is a healthy alternative
3 c. diced Russet potatoes
2 c. diced onions
½ package of coleslaw mix, no dressing; found with pre-bagged salads
1 c. carrots
1 c. frozen green beans
1 (14 oz) can Kidney beans
4 (14 oz) cans beef broth
3 garlic cloves, minced
¼ c. Italian parsley, chopped
1 bay leaf
½ tsp. dried thyme
½ tsp. black pepper
1 (14.5 oz) can diced Italian tomatoes
1)      Heat a skillet over medium-high heat; brown the sausage for about 8 minutes, stir frequently.
2)      While the sausage is browning layer your potatoes, onions, coleslaw mix, carrots, green beans, garlic, parsley, bay leaf, dried thyme and pepper in a 5 to 6 quart slow cooker.
3)      Top vegetables and spices with the sausage.
4)      Add in beef broth and cover with a lid.
5)      Cook on high for 1 hour; reduce to low for an additional 8 hours or until veggies are tender. (If necessary, you could forgo cooking on high for 1 hour, but that will increase the amount of time necessary on low.)
6)      Discard bay leaf, and stir in tomatoes.
This soup is great served with a crusty French bread. I like to use my bread maker and set it so the soup and bread are done at the same time.
Loaded Baked Potato Soup
print recipe
yields 8 servings
3 lbs Yukon gold potatoes – baked, you can use Russet potatoes in a pinch
1 ½ c. half and half
1 ½ c. milk
1/3 c. flour
1 c. sour cream
1 tsp. garlic powder
1 c. favorite bacon, cooked (we like apple-wood smoked bacon)
2 c. cheese, shredded
3 tsp. salt
½ c. butter
Fresh cracked pepper
1.)    Scrub and bake potatoes at 350 degrees for about 1 hour and 15 minutes until tender; cool before peeling. Once potatoes are cooled, peel and slightly mash them with a potato masher.
2.)    Pour milk and half and half into a Dutch oven or large pot, sprinkle flour over milk and whisk as you add it in. Heat the milk and flour over medium high heat until thick and bubbly, whisk continuously to avoid scorching.
3.)    Turn the heat to low and add in the potatoes, garlic powder, salt, cracked pepper, cheese, sour cream, butter and bacon bits mix thoroughly. Continue to heat the soup until the cheese is melted and it is completely warmed up. Do not let it boil.
4.)    Serve the soup topped with additional shredded cheese, chives and a few bacon bits.


I hope you enjoy these soups. If you have any good recipes to share, I'd love to hear them. Have a super week.