A few weeks ago when I decided to make fudge for Christmas I began looking for unusual fudge, and I stumbled upon this fudge over at Shugary Sweets where I found Aimee has a real knack for fudge making. I must say I was not so sure what I thought about the idea of Key Lime Fudge, but once I tasted it I was sold. So please don't discard it because of the name – give it a try, you'll be surprised.
Key Lime Fudge
yield 24 servings
printable recipe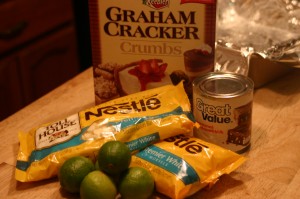 2 bags (12 oz each) white chocolate chips
1 can (14 oz) sweetened condensed milk
5 whole key limes, zested and juiced
1/2 c. graham cracker crumbs.
1.) Line a 13 x 9 pan with parchment paper
2.) Zest and juice your limes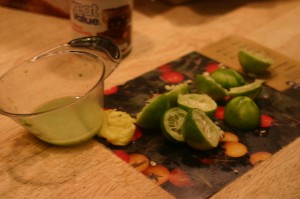 3.) Melt chocolate with sweetened condensed milk on low heat until smooth.
4.) Whisk in lime juice and zest.
5.) Pour fudge into prepared pan and sprinkle with graham cracker crumbs.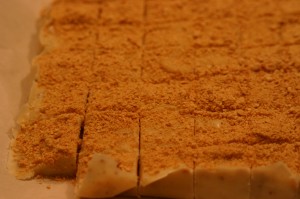 6.) Put in refrigerator to set-up, approximately 4 hours or overnight.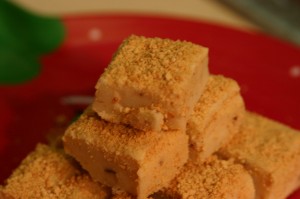 12 Days of Fudge:
Day 1: Root Beer Float Fudge
Day 2: Mint Oreo Cookie Fudge
Day 3: Oatmeal Fudge
Day 4: Key Lime Fudge