Until I started blogging I did not make fudge or bake for the holidays. Not because it didn't sound good, not because I couldn't, but mainly because I knew we didn't need all of those sugary treats, however, now I do make fudge and bake and I give it away as Christmas presents. I hope my family and friends like to eat because they are getting fudge this year.
Today is day 2 of my 12 Days of Fudge and I am hoping that I get 12 days up before Christmas. Last week I made four different types of fudge in my quest for my first day of fudge and the Crazy Cooking Challenge I participated in, and all but one were fantastic. I found this wonderful blog called Shugary Sweets and the writer, Aimee, has a knack for the sweet things. I would highly recommend checking out her blog. You will find a couple of my fudge recipes are adapted from her site because my thinking is – why invent the wheel if someone already has a good thing going, and she does.
Mint Oreo Fudge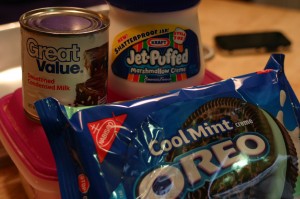 3 c. white chocolate chips
7 oz. marshmallow fluff
14 oz. can sweetened condensed milk
20 Mint Oreo cookies, crushed
1/2 tsp. vanilla extract
1/2 tsp. peppermint extract
1.) Line a 9 x 13 pan with parchment paper.
2.) In a medium saucepan, melt the chocolate, marshmallow fluff and sweetened condensed milk over medium heat; stirring continuously.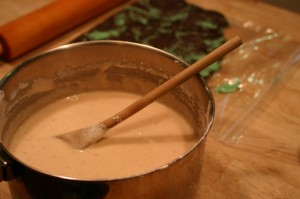 3.) Once the chocolate is smooth, remove from heat and quickly stir in the vanilla extract and peppermint extract.
4.) Gently fold in the Oreo cookies until fully incorporated.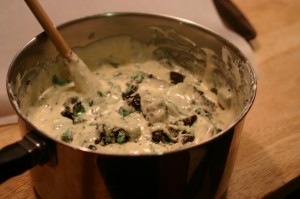 5.) Pour the fudge into your pan and spread out to all sides. Place in refrigerator for at least 4 hours until firm.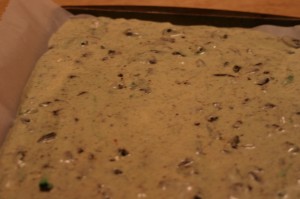 6.) Cut into bite size pieces and enjoy!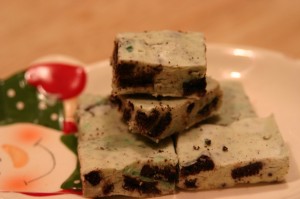 I recommend keeping your fudge in the refrigerator, it tastes good and keeps longer.
This recipe was an adaption of Cookies and Cream Fudge from Shugary Sweets.
12 Days Of Fudge:
Day 1: Root Beer Float Fudge
Day 2: Mint Oreo Cookie Fudge