I know that technically it should say Christmas, but not this time around. I'm seeing strawberries. I guess it could be because I love strawberries, and I try to do all kinds of neat things with them.
Back in the summer I had an article on Destiny In Bloom, about Raining Strawberries. If you haven't seen it you should go out an take a look. I have recipes for strawberry bread, strawberry butter, and strawberry and mint soup.
My December article at Destiny In Bloom is a Strawberry Christmas Tree. It is a must see, and a great holiday center piece.
I hope you take the time to go look at the step by step tutorial. Because of that craft project, I had a ton of strawberries leftover and I wanted to make something tasty with them, so I decided to make Cheesecake Stuffed Strawberries. Definitely a great way to use strawberries and they are very addictive.
I saw another cute idea for strawberries during the holidays, but I haven't tried them yet. I found some very cute Strawberry Santas at Uncommon Artistic Endeavors. If you try these let me know what you think.
I hope you enjoy these wonderful strawberry treats that are unbelievably easy to make.
Cheesecake Stuffed Strawberries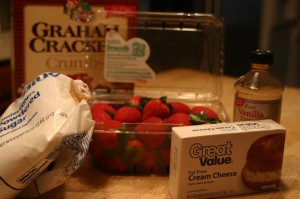 1 lb fresh strawberries
8 oz. cream cheese, softened
4 Tbl. powdered sugar
1 tsp. pure vanilla extract
1/4 c. graham cracker crumbs

1.) Wash the strawberries thoroughly and core out the centers. I am fortunate to have a corer, but a sharp pairing knife would work just as well.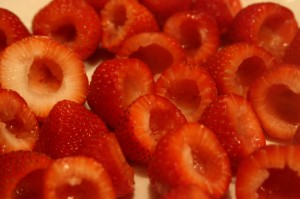 2.) Mix together the cream cheese, powdered sugar, and vanilla extract with an electric mixer.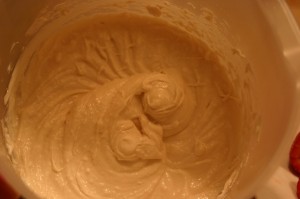 3.) Fill a pastry bag with the cream cheese mixture, however, if you don't have a pastry bag use a Ziploc bag and cut off the tip. Fill the strawberries with the cream cheese mixture.
4.) Sprinkle the graham cracker crumbs over the filled strawberries.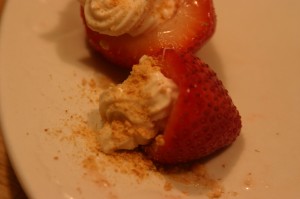 5.) Refrigerate until you are ready to serve.
Don't forget to head over to Destiny In Bloom to see the Strawberry Christmas Tree, and other great strawberry recipes.
This recipe was adapted from Nutmeg Nanny.