Tuesday night I received a text that said "Come over tomorrow," and then a few short hours later another one that said "Come over today!" They were from my best friend, who lives a mere 30 minutes from me, but I see just a few times a year because of our crazy schedules. A little later, after I confirmed I was going to go over, I felt like I was in a Phineas and Ferb show as my friend sent me another text and said "Amy, I know what we are going to do today… make Tres Leche Cupcakes!" Okay, so not quite as elaborate as Phineas and Ferb but for moms I think it is pretty good, especially since we haven't made them before.
Now, I know you might be confused because the title of this post says Kahlua Cream Cupcakes, but those came about after the Tres Leche Cupcakes. I thought we were on a cupcake-baking-roll and wanted to try our hand at something else, so "Ta Da – Kahlua Cream Cupcakes!"
Kahlua Cream Cupcakes
yield at least 12 cupcakes
printable recipe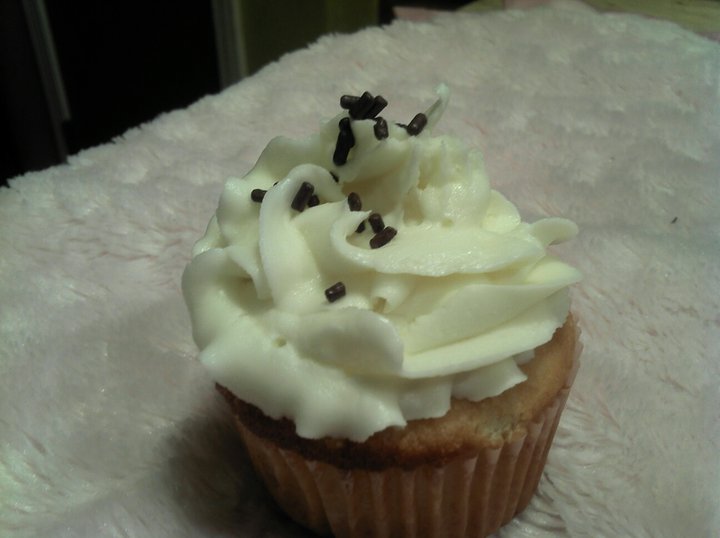 1 1/2 sticks unsalted butter at room temperature
1 1/2 c. granulated sugar
3 large eggs at room temperature
1 1/2 tsp. pure vanilla extract*
1 c. sour cream
1/2 c. Kahlua liqueur
2 1/2 c. cake flour (not self-rising)
2 tsp. baking powder
1/2 tsp baking soda
1/2 tsp kosher salt
1.) Preheat oven to 350 degrees. Line muffin tins with paper cupcake liners.
2.) Cream the butter and sugar with an electric mixer for 4 minutes, until light and fluffy. (I use my Kitchen Aid fitted with the paddle attachment.)
3.) Add in the eggs one at a time, making sure each egg is mixed in before adding the next one.
4.) Add in the vanilla, sour cream and Kahlua; mix thoroughly.
5.) In a separate bowl, sift together the flour, baking powder, baking soda and salt.
6.) Slowly add the flour mixture to the sugar mixture until combined. (Use a spatula to make sure the flour mixture is completely combined with the sugar mixture. Sometimes flour gets stuck at the bottom and is not mixed well.)
7.) Fill cupcake liners 3/4 full. Bake 15 to 18 minutes, until the top is spongy. Cool completely before icing.
*If you are looking for a great pure vanilla extract you can purchase the same vanilla we used at Savvy Tea and Herbs.*

Basic Buttercream Icing
yield 3 cups
printable recipe
1/2 c. shortening
1 stick butter, softened
1 tsp. vanilla extract
4 c. powdered sugar
2 Tbl. milk
1.) In a large bowl cream shortening and butter with an electric mixer. (I use my Kitchen Aid with the whisk attachment.)
2.) Add in vanilla.
3.) Gradually add in the sugar, 1 cup at a time. Mix on medium speed.
4.) After all of the sugar is mixed in the icing will be very dry, add in the milk. Beat at medium speed until light and fluffy.
5.) Cover with a damp rag until ready to use.
6.) Place icing in a pastry bag, and pipe on top of your cooled cake or cupcakes.
*Store leftover icing in an airtight container in the refrigerator. Re-whip the icing before using refrigerated icing.*
After icing your cupcakes, decorate them with sprinkles for a little something extra.