What in the world is Baklava, you ask? That is easy it is an absolutely heavenly dessert made of phyllo dough, nuts and a honey syrup. My husband and I fell in love with Baklava when we visited a Greek restaurant close to our home.
After dessert, the cook in me thought that surely I could make the Baklava. After all it couldn't be that hard. And, guess what? I was right, it isn't too difficult, so I decided to share it with you as my final Christmas Goody. I know for some it might be too late to add to your Christmas dinner, but I thought it would be great for New Year's Eve as well. What better way to bring in the new year, than trying something new.
Baklava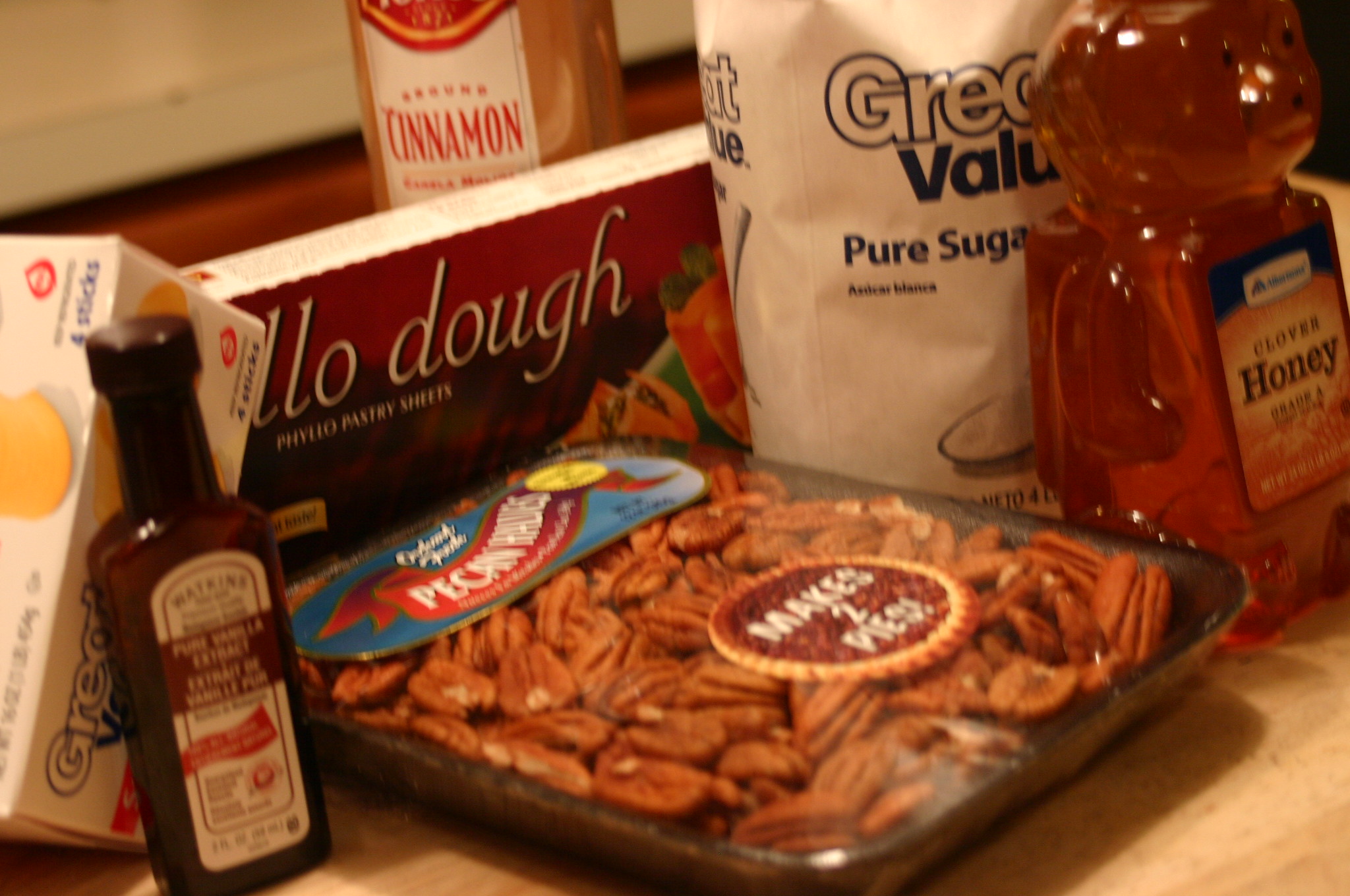 1 (16 oz.) pkg. phyllo dough (Athens)                                                       2 c. water
1 lb nuts, chopped or pureed (we used pecans)                                      2 c. sugar
1 c. butter                                                                                                     2 tsp. vanilla extract
1 tsp. ground cinnamon                                                                              1 c. honey
** Phyllo dough can be found in the freezer section of your local grocery store, near puff pastry dough, frozen pies, etc…**
1.) Preheat the oven to 350 degrees, and prepare a 9 x 13 glass pan by buttering the bottom and sides.
2.) Either chop or puree the nuts (we puree the nuts into almost a powder) and mix with the cinnamon.
3.) Carefully unroll the phyllo dough, you want to try to not tear it. Carefully cover the bottom of the pan with two sheets of dough and butter thoroughly. Continue to add two sheets and butter, until you have a base of 8 sheets of dough.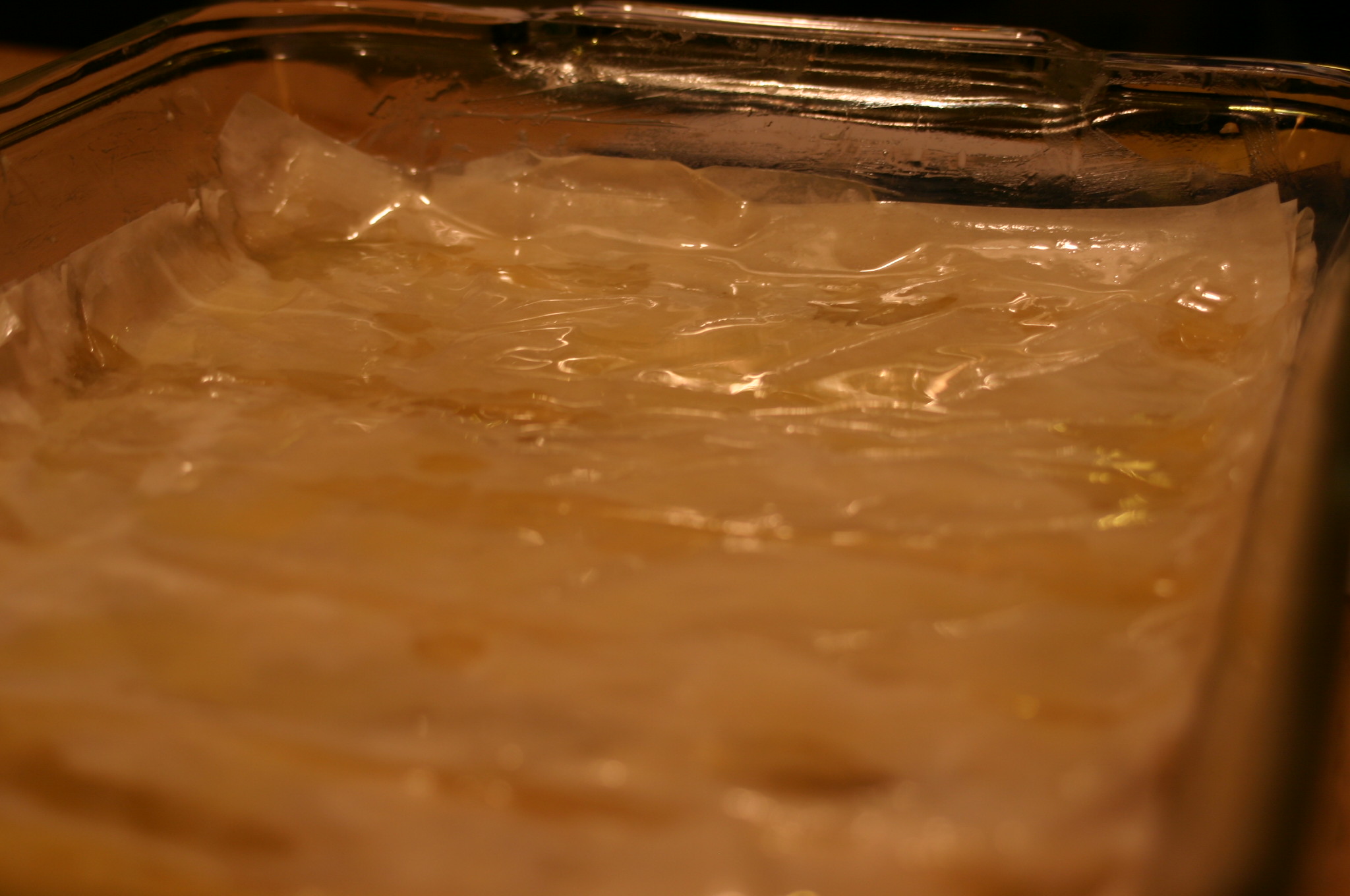 4.) Sprinkle 3 to 4 tablespoons of nuts on the base, then top with two sheet of dough, butter and repeat with the nuts, dough and butter. Continue this until your nut mixture is gone.
5.) Layer two sheets of dough then butter and continue the process until you have about eight sheets topping your last layer of nuts.
6.) Using a very sharp knife, cut into squares all the way to the bottom of the pan.
7.) Bake for 50 minutes until the Baklava is golden and crisp.
8.) While the Baklava is baking, use a medium sauce pan and bring your water and sugar to a boil, dissolving the sugar. Add in the vanilla and honey, simmer for 20 minutes.
9.) As soon as the Baklava comes out of the oven, spoon 1/2 to 3/4 of the sauce over it. Reserve the remaining sauce until the next day. Let the Baklava cool at room temperature, uncovered. If covered the Baklava will become soggy.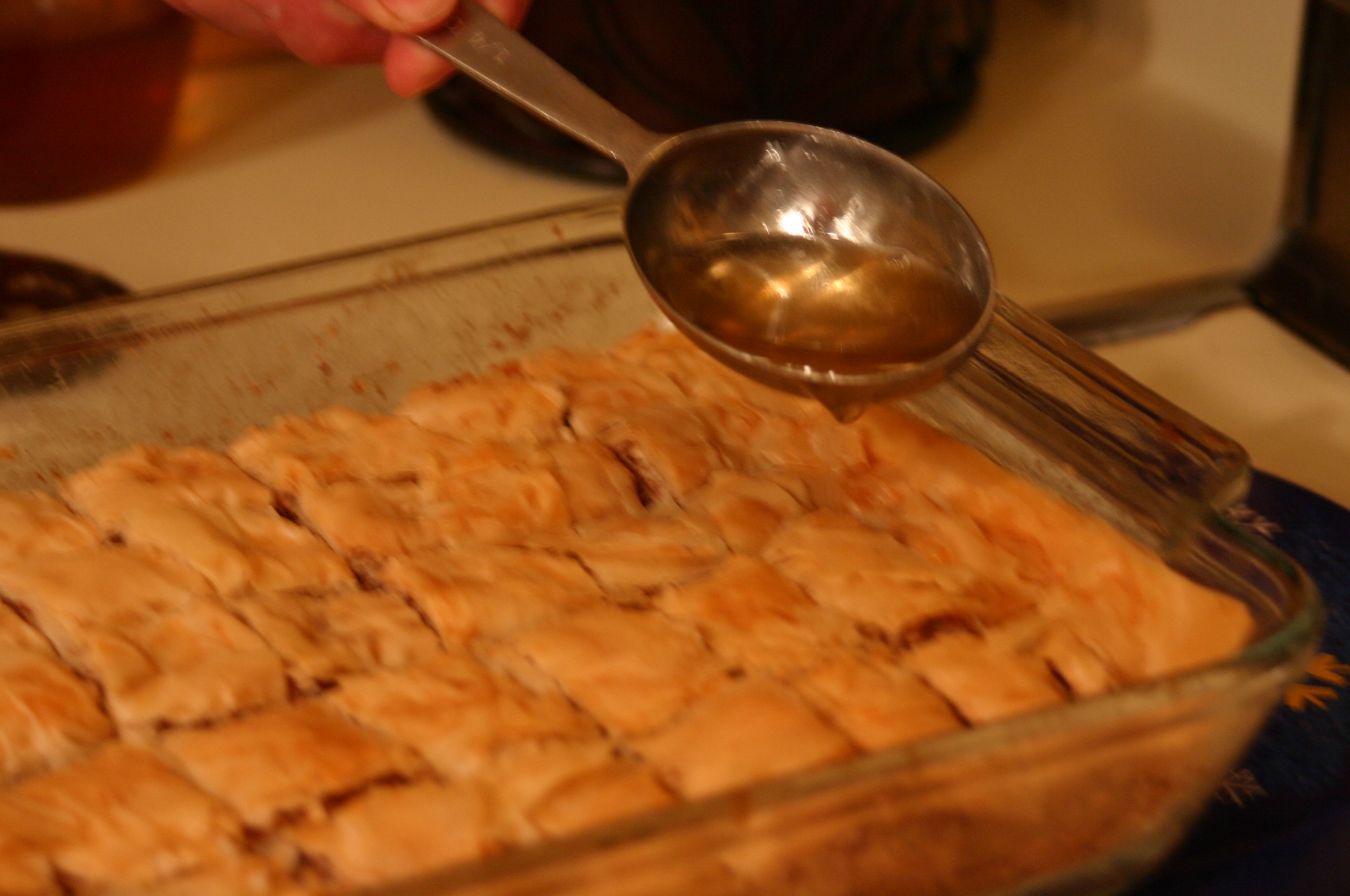 10.) Before serving, spoon the remaining sauce over the Baklava. (If you would prefer it to be a little dryer do not add more sauce.)
This dessert would make a nice presentation in holiday cupcake wrappers.