Yes… I said White Chocolate Popcorn.
Before baby, I was a popcorn addict and had been for many, many years. There were days that popcorn is all I would eat for lunch, and I was perfectly happy with that. But something happened … pregnancy! I was not too fond of popcorn while I was pregnant, but after years of loving it, I was sure that once the sweet baby arrived I would love it again. Not so! I like popcorn, but I can take it or leave it.
The only kind of popcorn that really draws me now is Gourmet Popcorn! If you live in a decent size city, you have probably seen those popcorn stores that sell funky kinds of popcorn at crazy prices – well, that is the popcorn I like. To be more exact, I like the Ranch popcorn, or the Dill Pickle popcorn (gross, you say? My thoughts at first, but if you haven't tried it, don't knock it – it is pretty good.)
However, I won't go to the popcorn store when the urge strikes, so I had to come up with another plan, thus the White Chocolate Popcorn. I am making gift baskets this Christmas for friends and family loaded with homemade goodies, and I thought a gift basket would not be complete without popcorn, so below you will find my Easy As Pie White Chocolate Popcorn.
White Chocolate Popcorn
As with any thing that requires ingredients or supplies, gather them ahead of time so your project will move along smoothly.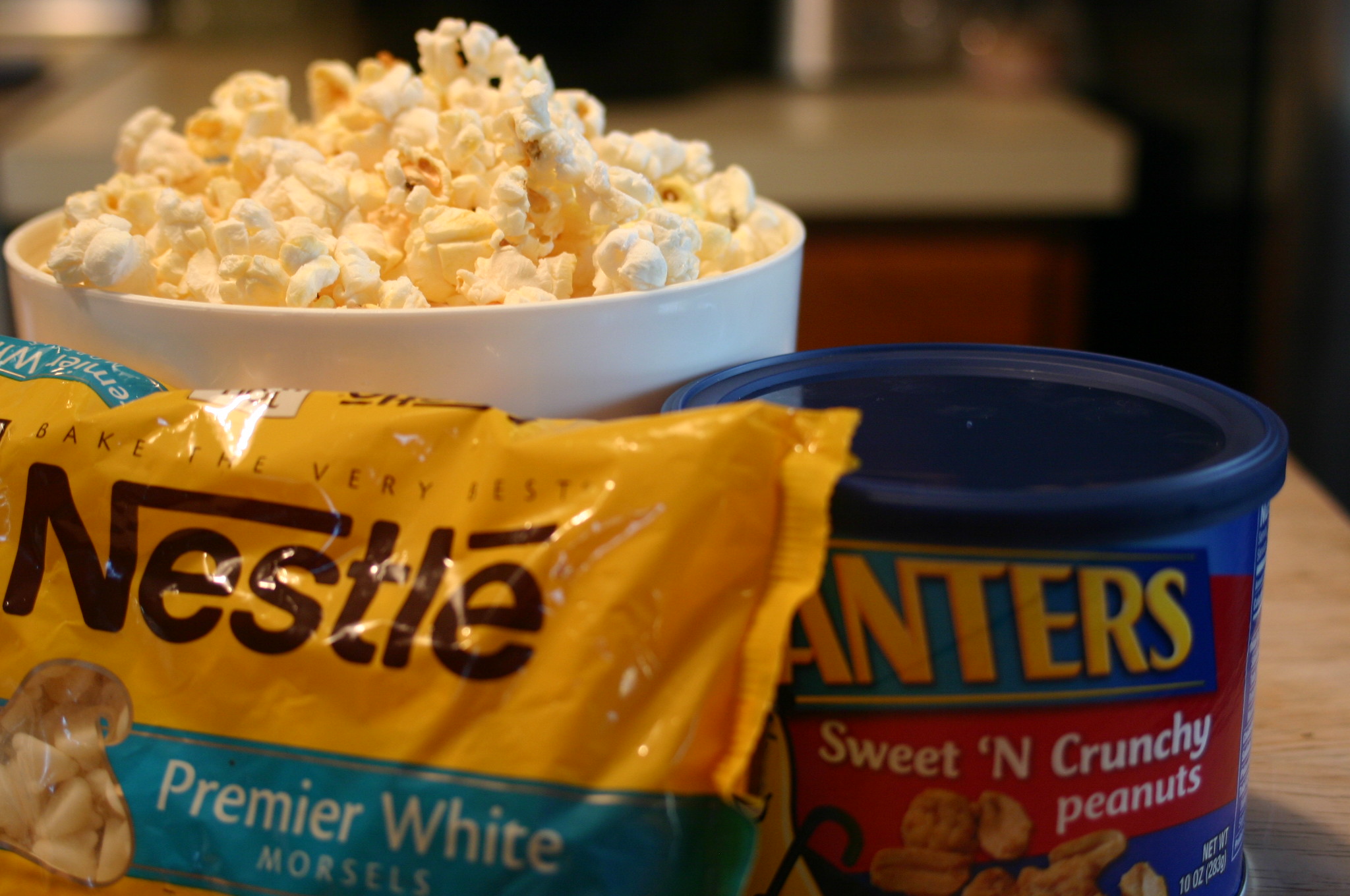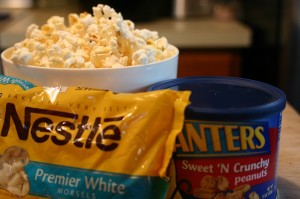 Approx. 10 c. popcorn, popped
2 1/2 c. white chocolate chips
1 c. Sweet 'N Crunchy Peanuts
Jingle Mix Nonpareils
1.) When choosing your popcorn, make sure it is light on the butter. I used microwave popcorn for mine, however, air popped would work fine.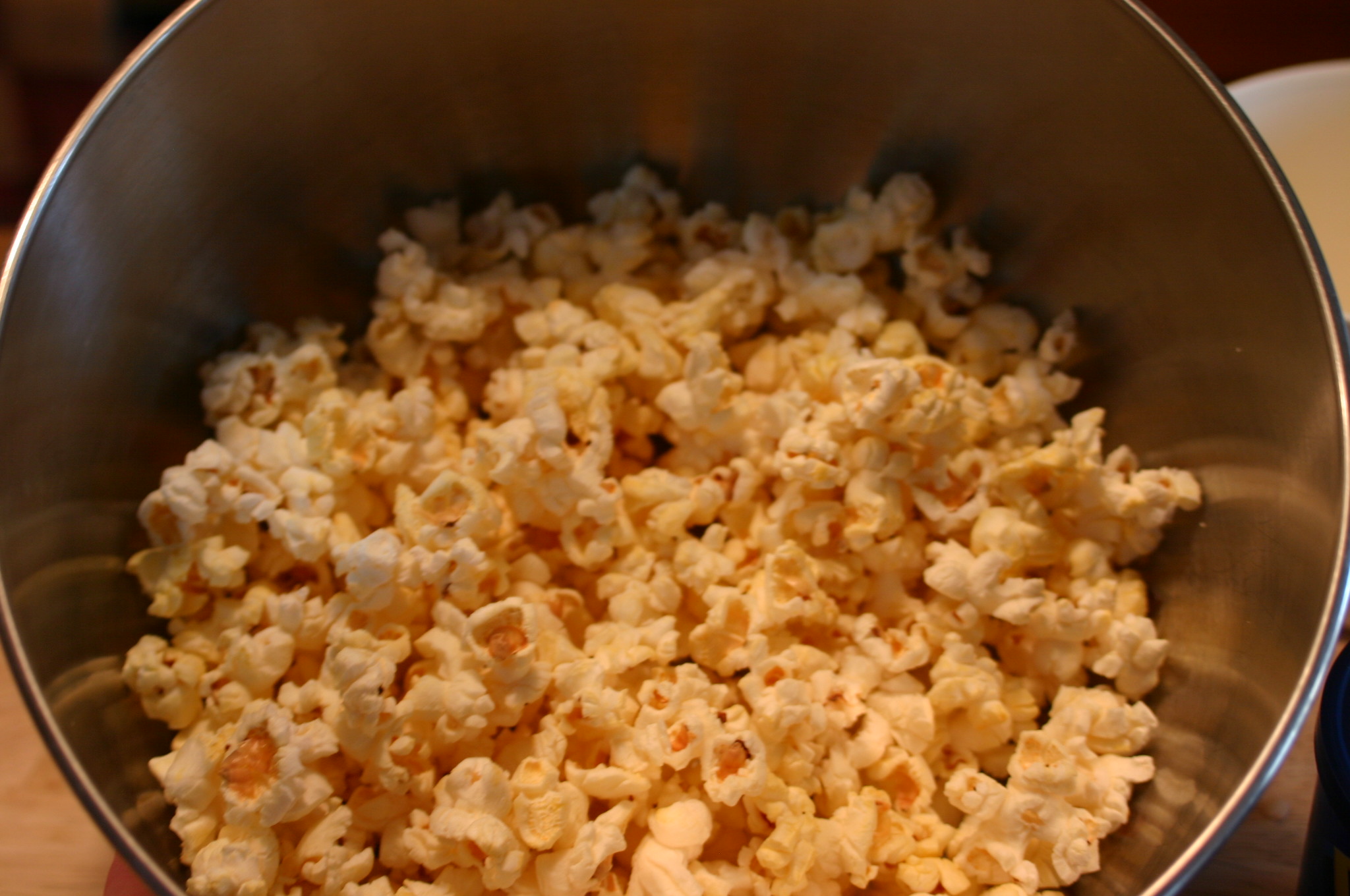 2.) Prepare a cookie sheet with parchment paper.
3.) Melt your chocolate chips in a microwave-safe glass bowl. Begin melting your chips for 1 minute at 50% power, stir chips. If necessary, continue to melt for 30 second intervals until completely melted. (If you prefer, you could use a double boiler.)
4.) Now, quickly stir the chocolate in with the popcorn. Make sure to coat all of the pieces of chocolate. The chocolate will begin to harden quickly, so move fast.
5.) Add in the nuts and mix gently.
6.) Spread popcorn mixture out on the parchment paper and sprinkle with the nonpareils. Place in the refrigerator to set.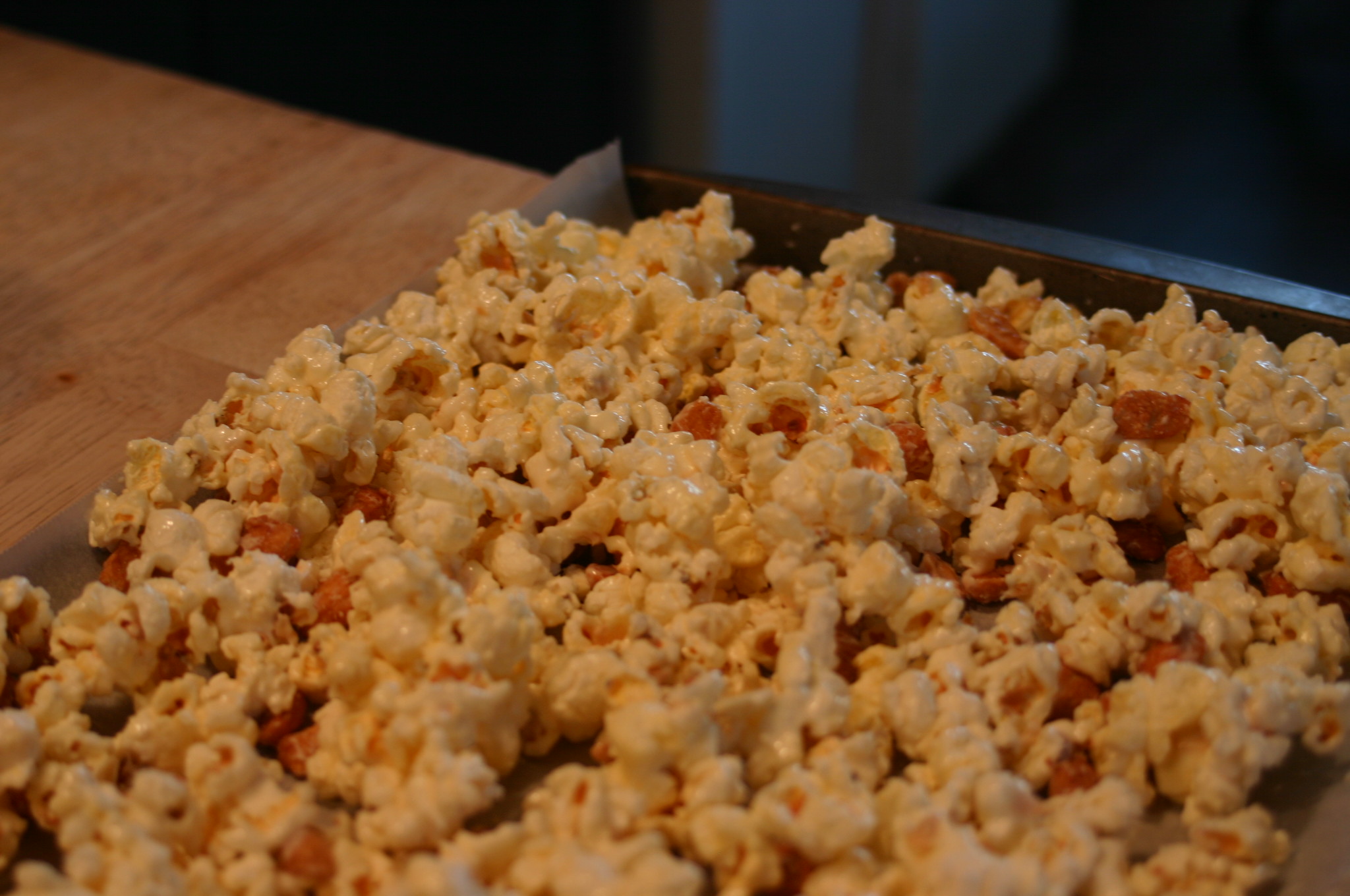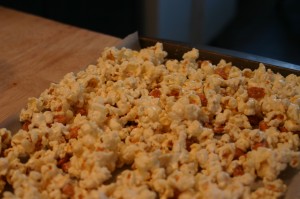 Notice how it is hard to see the white chocolate, but if you taste it, it is there.
7.) Pull from refrigerator and break into pieces.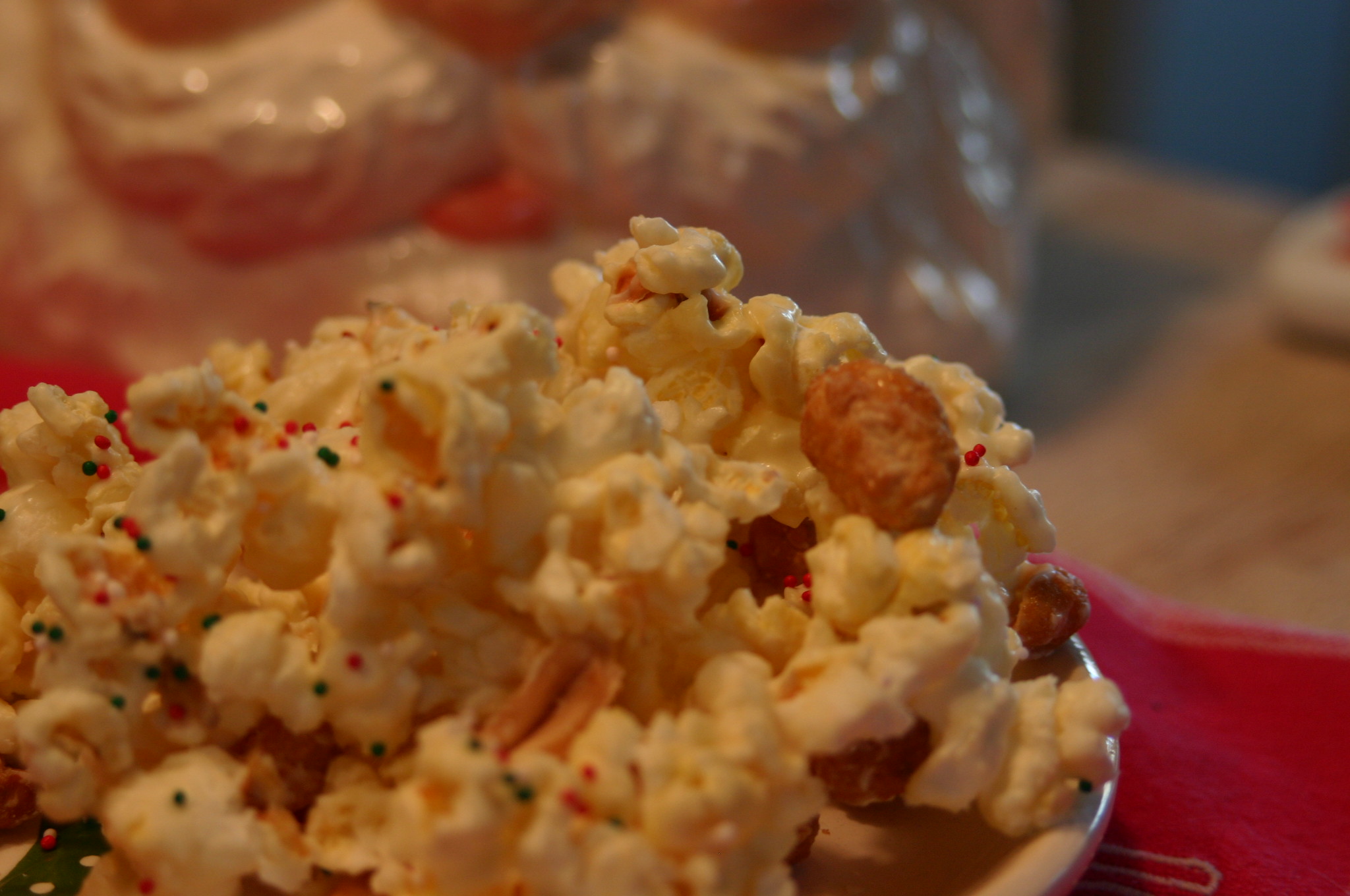 Eat a little for yourself and then bag some to give away.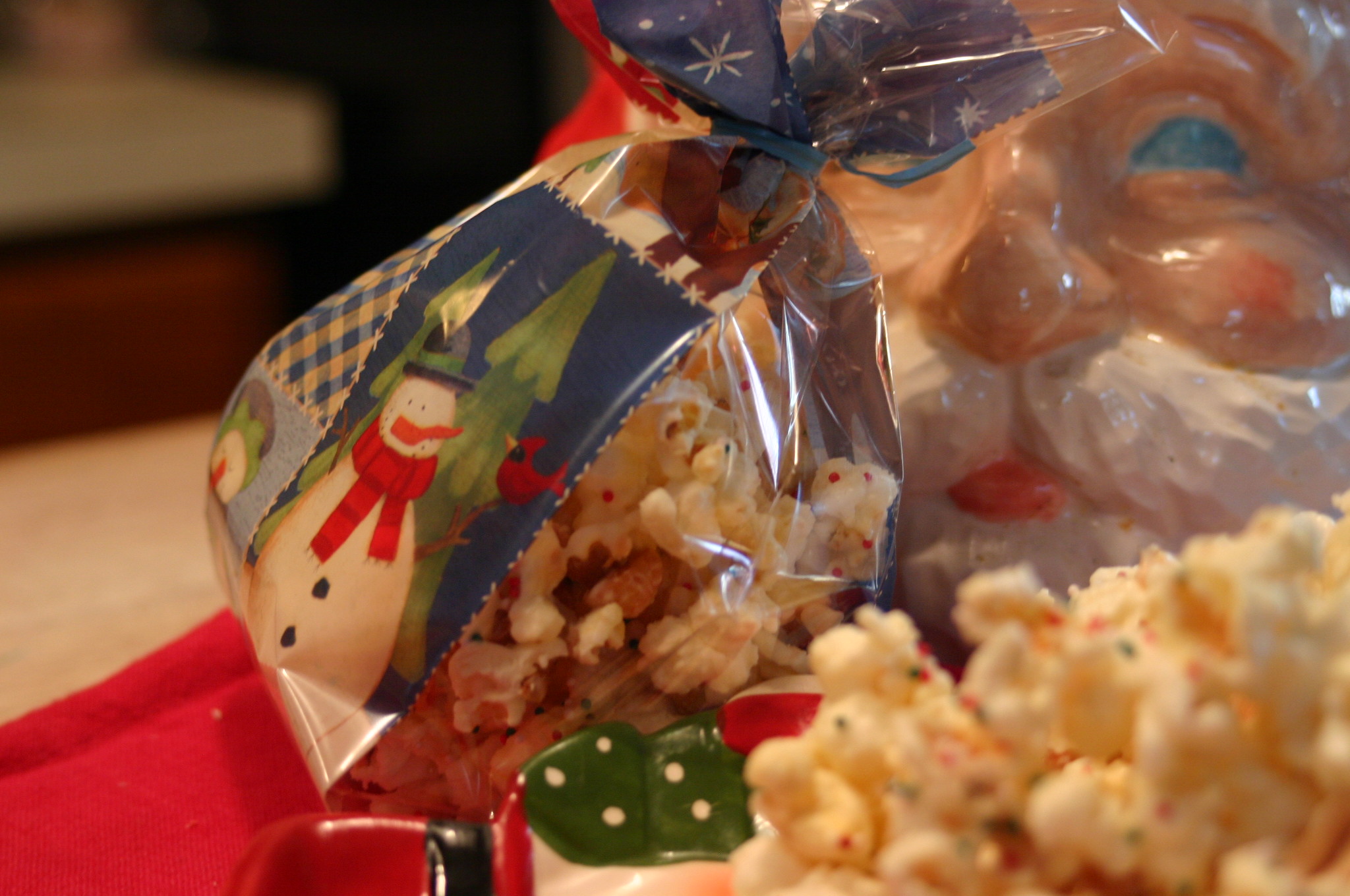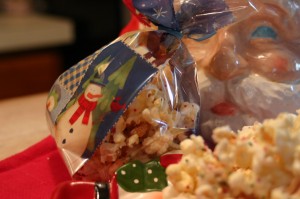 I can honestly say that this is probably the quickest treat so far. Prep time is about 5 minutes. If you need some quick little gifts these would be great.