I have seen a variation of this fudge on many sites, and was not sure what to think about it. It takes only two ingredients to make the fudge and an optional one to enhance the flavor. I honestly think this has to be a no-fail fudge, so if you are scared of fudge try this one.
This is my son's favorite fudge so far out of all the different ones I've made so far. I hope you find it as tasty and easy as we did.
Heath Bar Fudge
yield 24 pieces
printable recipe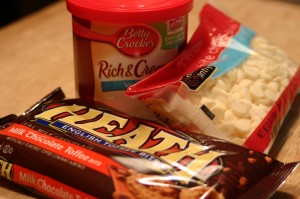 1 (12 oz) bag white chocolate chips
1 can vanilla frosting
1 pkg heath bar pieces
1.) Line a 8 x 8 pan with parchment paper.
2.) Melt the chocolate and frosting over medium heat until smooth; stir continuously.
3.) Fold in the heath bar pieces.
4.) Spread fudge into prepared pan.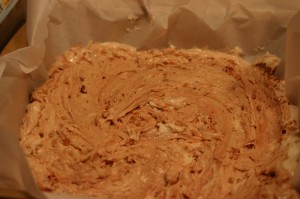 5.) Place into refrigerator to set-up at least 2 hours. Cut into bite size pieces.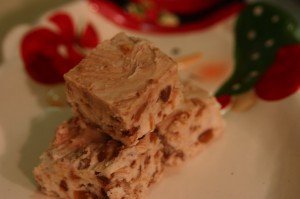 I think you could probably use any kind of candy in this fudge and you could also use milk chocolate pieces and chocolate frosting if you chose.
12 Days of Fudge:
Day 1: Root Beer Float Fudge
Day 2: Mint Oreo Fudge
Day 3: Oatmeal Fudge
Day 4: Key Lime Fudge
Day 5: Eggnog Fudge
Day 6: Heath Bar Fudge