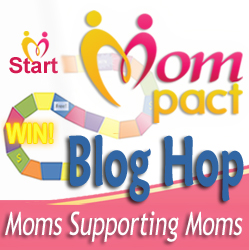 I am so excited to be joining an amazing group of women this week on a fantastic, fun-filled journey. Over 120 bloggers and mom run companies have come together to bring our readers wonderful product reviews and giveaways. I hope you take the time to visit the other bloggers and enter their giveaways. You can find the full list of participants at Mompact.com, also at the bottom of this post you will  be directed to the next blog along this bloggy road.
Also, I am excited about a new product I got to try this week – Strap Tamers: Bra Strap Concealers.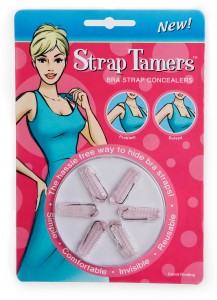 I must be old-fashioned but I really don't like to see bra straps hanging out of shirts, I equate this to boxer shorts hanging out of pants, and neither were meant to be seen. However, I love to wear tank tops and my bra straps hate to stay hidden, so I am constantly tucking them back in where they should go, so much so it is a habit. You can imagine my delight when I was given the opportunity to review a product called the Strap Tamers. I didn't need to think twice if they tamed straps, I was all for it.
The Strap Tamers were invented by mompreneur, Noël Goldman, who one day witnessed her daughter leaving for school with bra straps showing and decided to do something about it. Noël wondered, "When did it become acceptable to fail to keep your undergarments 'under'?" Thus the birth of the Strap Tamers.
Since I have received the Strap Tamers I have enjoyed hidden bra straps. The Strap Tamers are so easy to use and they stay in place nicely. I have used other options, but these seem to work the best so far. I also like the fact that I do not have to remove them from my clothes after each use, and if they get tossed in the washing machine there is no harm done; they'll be right where I left them.
Aside from hiding bra straps they are also great with strapless styles. You clip the Strap Tamers to the inside of your top and then clip it over the top of your bra; it works beautifully. I did not have to keep tugging at my bra to make sure it was in place.
These little gadgets are a wonderful invention and very cost-effective. You can purchase Strap Tamers at your local Target in the lingerie section for as low as $6.99, as well as other finer department stores and boutiques. But …this week I will be giving away a package of Strap Tamers to one lucky reader! There are many ways to enter so don't forget to take the time to do so below.
After you have entered the giveaway for the Strap Tamers  please go visit the next blog along this journey.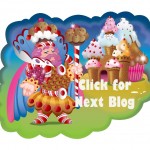 Then to continue the giveaway fun go to Mompact.com and click on some more blogs and giveaways. There are at least 120 different giveaways you can enter. Doesn't that sound like fun?

Now for the fun at Kitchen and Kids. Enter now to win your own set of Strap Tamers.

Disclaimer:
In accordance with FTC Guidelines for blogging and endorsements: I have received a sample product for the purposes of the review. Receiving this product will in no way affect my review as they are my own opinions and experiences from using said product. This promotion is in no way sponsored, endorsed or administered by, or associated with, Facebook. We hereby release Facebook of any liability. This is a Mompact sponsored event.