Every year after Christmas, I think to myself – "Self, it is time to lose the baby weight. After all the baby is 1 1/2 years old, and those extra pounds over Christmas are not from the baby. Well … maybe her leftovers."
So after I perused my cookbooks (which is my favorite pastime. Really, it is.) I found a lovely one for a healthy easy dinner.
I threw out the question to my son if he liked salmon patties, and to my surprise he thought they sounded good. It could be because I actually asked if he liked salmon cakes, and all he heard was cakes, but no matter, off to the store I went for the ingredients.
We thoroughly enjoyed our dinner of salmon patties, salted potatoes, and steamed veggies. Below you will find the wonderful recipes for this super easy, fairly healthy dinner.
Salmon Patties
As I always say … gather your ingredients before you begin.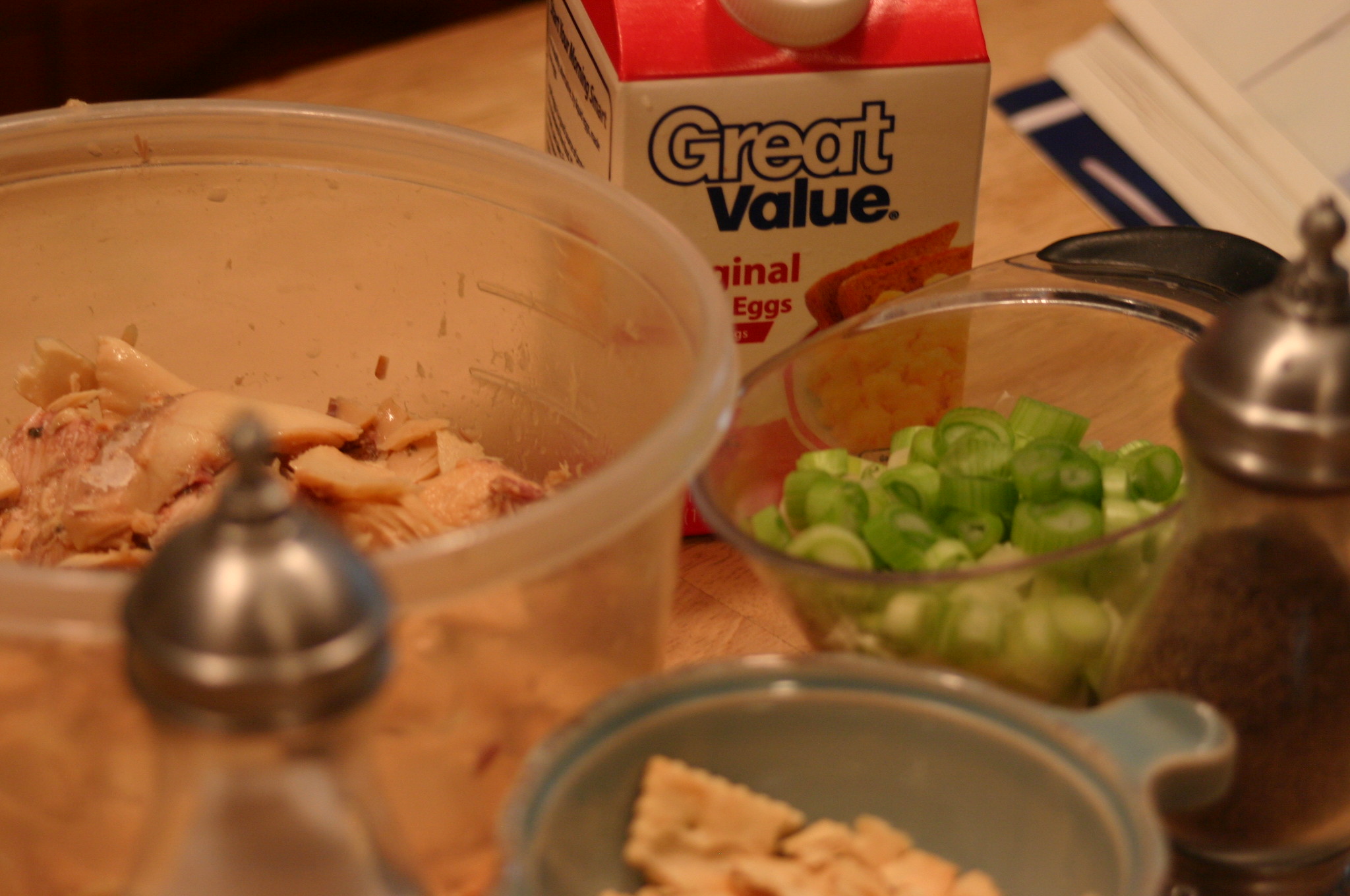 1 (14.75 oz.) can pink salmon
1/2 c. egg substitute
1/2 c. crushed saltine crackers
2/3 c. thinly sliced green onions
1 Tbl. lemon juice
1/4 tsp. salt
1/4 tsp. pepper
1.) Drain salmon – discard as many bones as you can, as well as the skin.
2.) Mash the salmon into smaller pieces.
3.) Combine salmon, egg substitute, crushed crackers, green onions, lemon juice, salt, and pepper. Mix well.
4.) Measure 1/4 c. of mixture, form into a patty, and repeat until you have used up all of the mixture.
5.) Spray a non-stick pan with olive oil, place over medium-high heat until hot.
6.) Add patties. Cook for 3 minutes per side, or until lightly browned.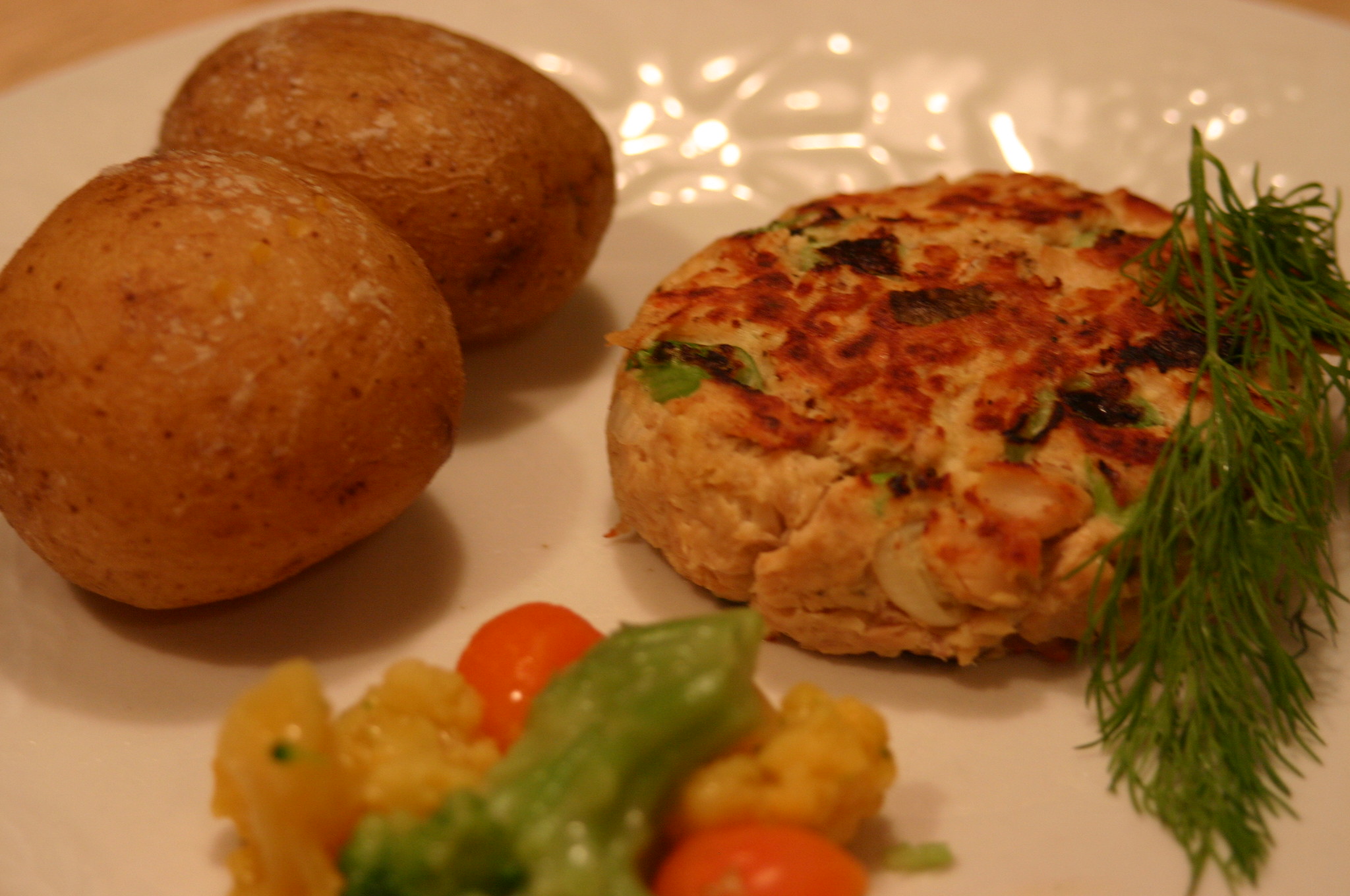 These salmon patties are fantastic served with dill tartar sauce.
Dill Tartar Sauce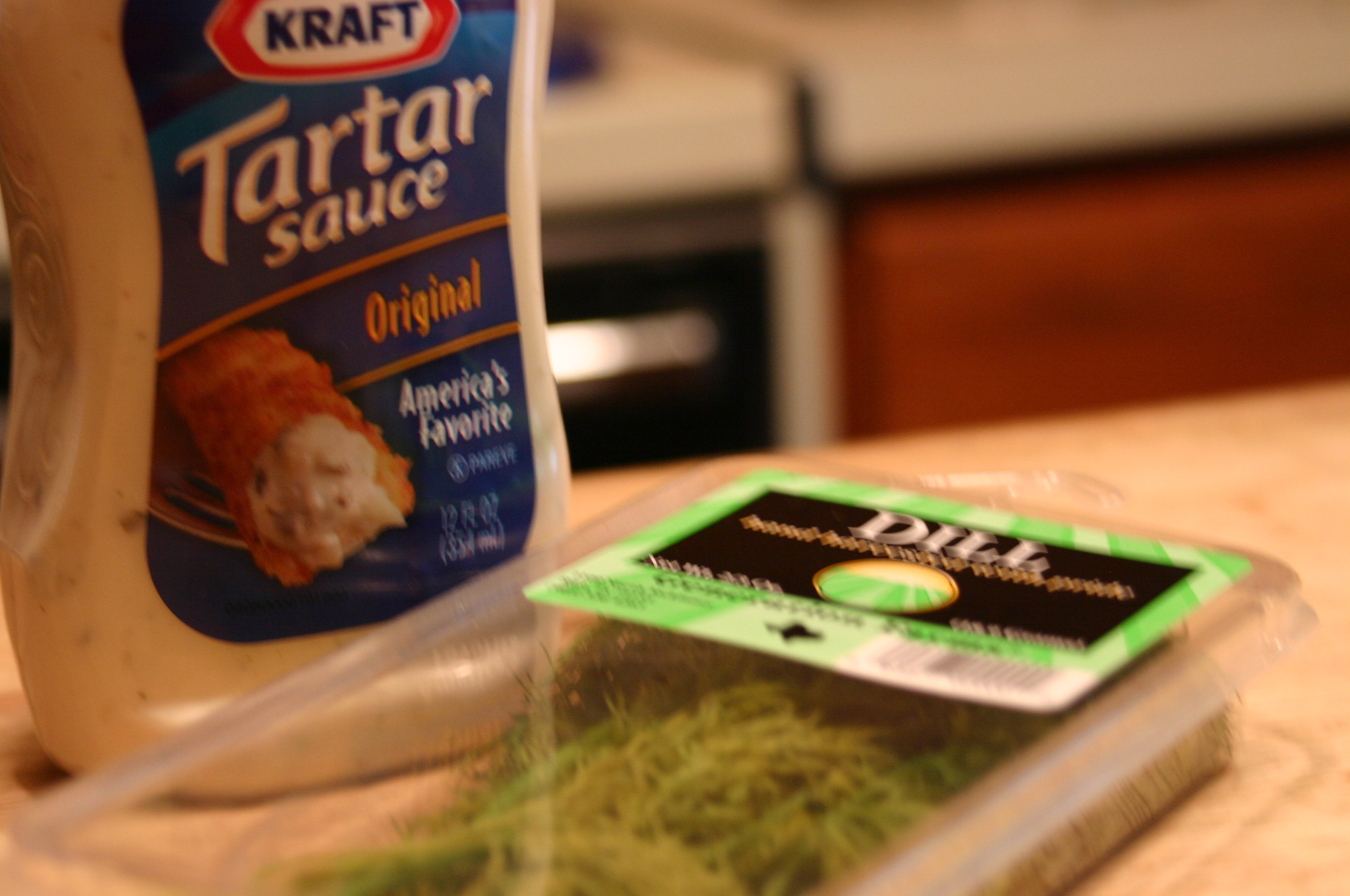 1/3 c. prepared tartar sauce
2 Tbl. fresh dill, chopped
1.) Mix the prepared tartar sauce and the dill together.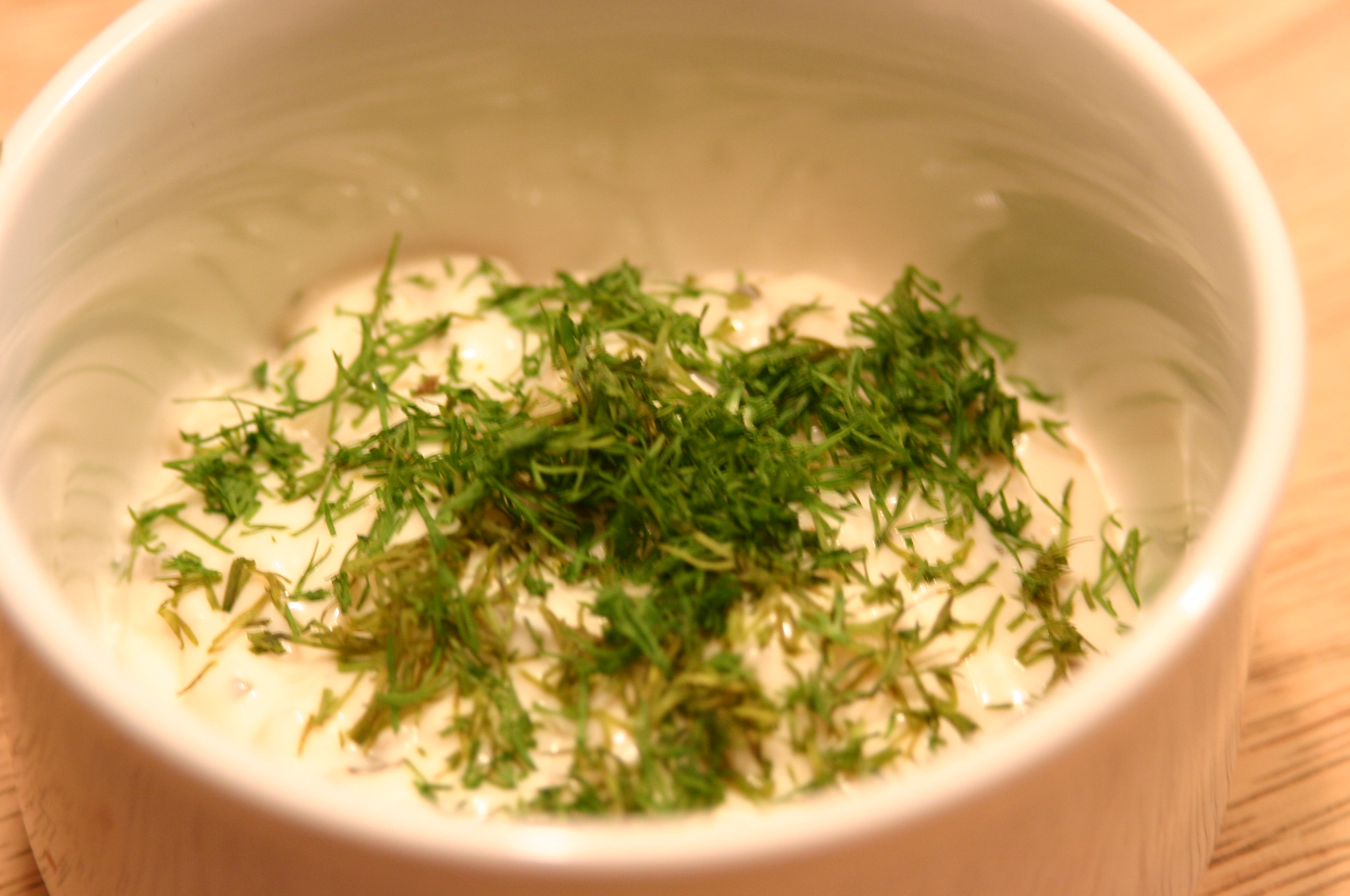 Salted Potatoes
I had never heard of Salted Potatoes (mind you I am in Texas), until I was perusing some other blogs, and found these. We are a meat and potatoes family, so if I can find others ways to make potatoes, I am excited.
These potatoes are almost identical to some I already make, except the salt. These call for insanely amounts of salt. So if sodium is an issue for you, you may want to pass on these.
3 lbs small new potatoes
1 c. salt
4 c. water
1/2 c. butter, melted
1.) Thoroughly wash your potatoes, and place in a medium sauce pan.
2.)  Cover potatoes with the water, mix in the salt, and boil until you can pierce the potatoes with a fork.
3.) Drain the water from the potatoes.
4.) Drizzle 1/2 of the butter over the potatoes, and serve the remainder of the butter as a condiment for your potatoes after they are smashed.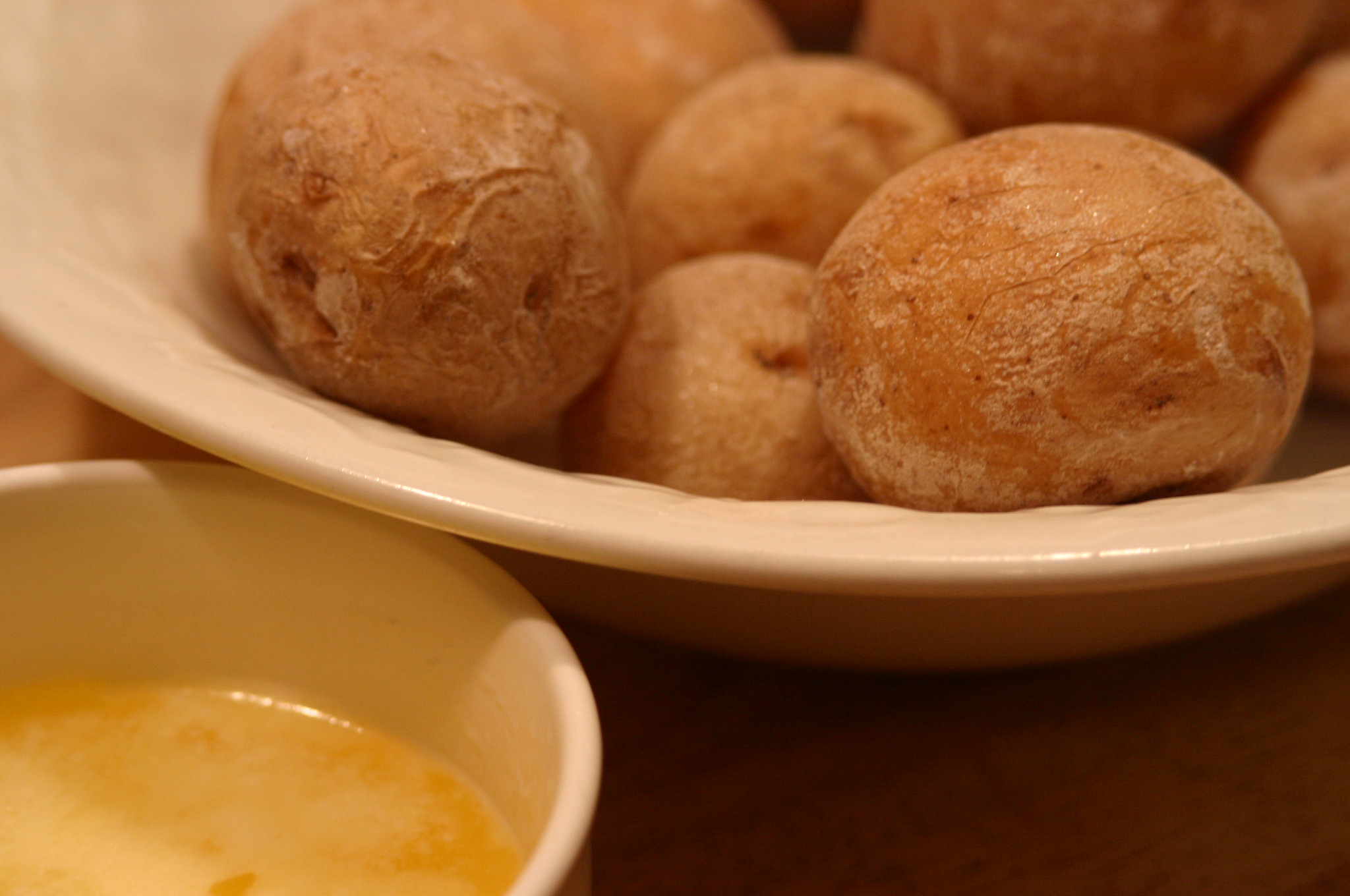 I hope you guys will enjoy this very simple dinner. By the way, the veggies pictured are simply ones you find in your freezer section. They are the ones that are steamed in the bag with the sauce.