I cannot believe how time is flying this Christmas season. The neighborhood kids are on Christmas break, not my son though, he spent last week figuring out how to not do his schoolwork so now he is in school while they aren't. My Christmas shopping is about to begin – just kidding, I am almost done. Holiday baking is under way. And, Christmas gatherings have begun. Wow!!!
In a few short days I will be done with my 12 Days of Christmas Goodies, and I don't know what I am going to do with myself. I think I may do 100 Days of Losing Weight, I'll definitely need it. But that is putting the cart before the horse because I still need to complete days 9, 10, 11 and 12. So here is day 9.
Last year at church one of the young women on the worship team brought Peanut Butter Truffles to church and my son had one. He fell in love … with the truffle, so this year he asked me to make them. So here they are. I hope you enjoy them as much as my family does. I did have to make a separate batch for my husband without the chocolate, because he thought "these are the best things you've made thus far – they don't need any chocolate." In fact, he was disappointed when I started dipping the first batch in chocolate, poor guy.
Peanut Butter Truffles
Gather all of your ingredients ahead of time. If you are like me you don't have time to waste searching for stuff when you are in the mix of things.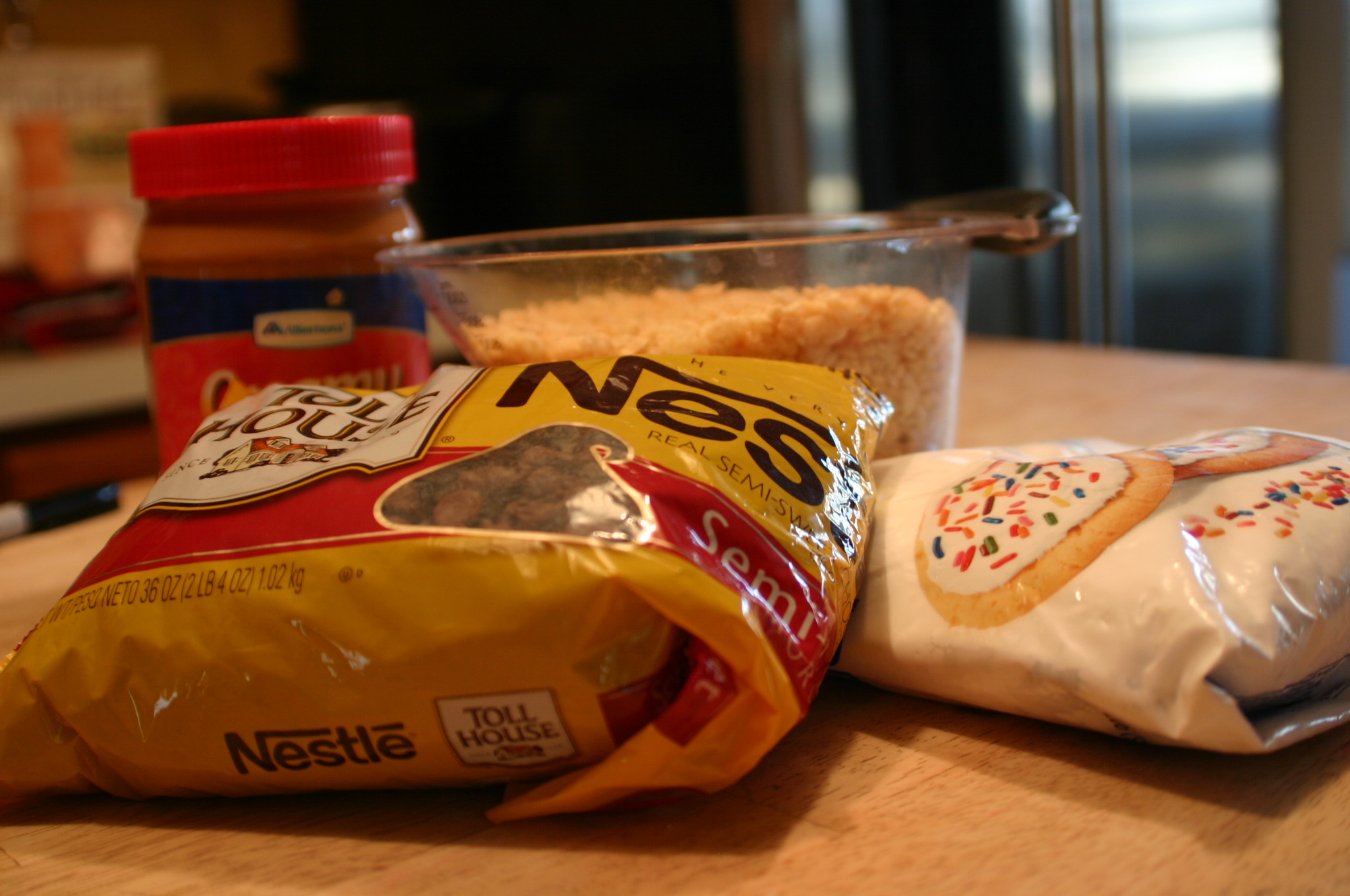 2 c. creamy peanut butter
2 3/4 c. powdered sugar
1/2 c. butter
3 c. crisp rice cereal
3 to 4 c. milk chocolate chips
1.) Mix the cereal and sugar together in a large bowl.
2.) In a medium saucepan, melt the butter and peanut butter over low heat.
3.) Mix the melted peanut butter mixture in with the cereal and sugar. Blend thoroughly.
4.) Form into 1 inch balls, and place on a cookie sheet lined with parchment paper. I found that it was easier to form the balls if my hands were a little wet, the mixture didn't stick as badly.
5.) Place in the refrigerator or freezer until firm.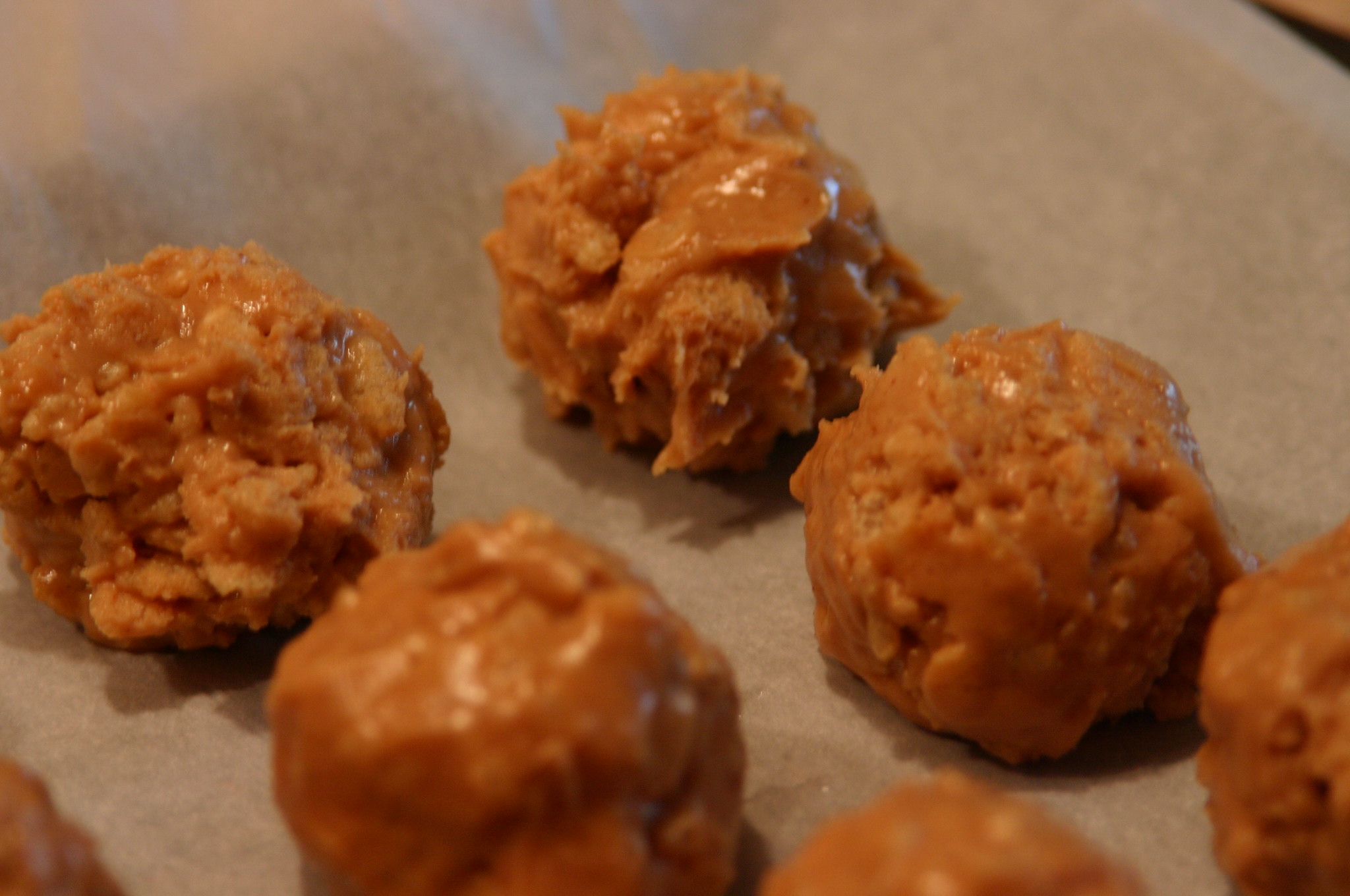 6.) Melt 3 c. of chocolate in a double boiler, drop a truffle in the chocolate, roll around to coat and then place on a parchment lined cookie sheet. Continue until all of your truffles are coated.
7.) Return to refrigerator to firm up. After the truffles have set you may store them in an airtight container.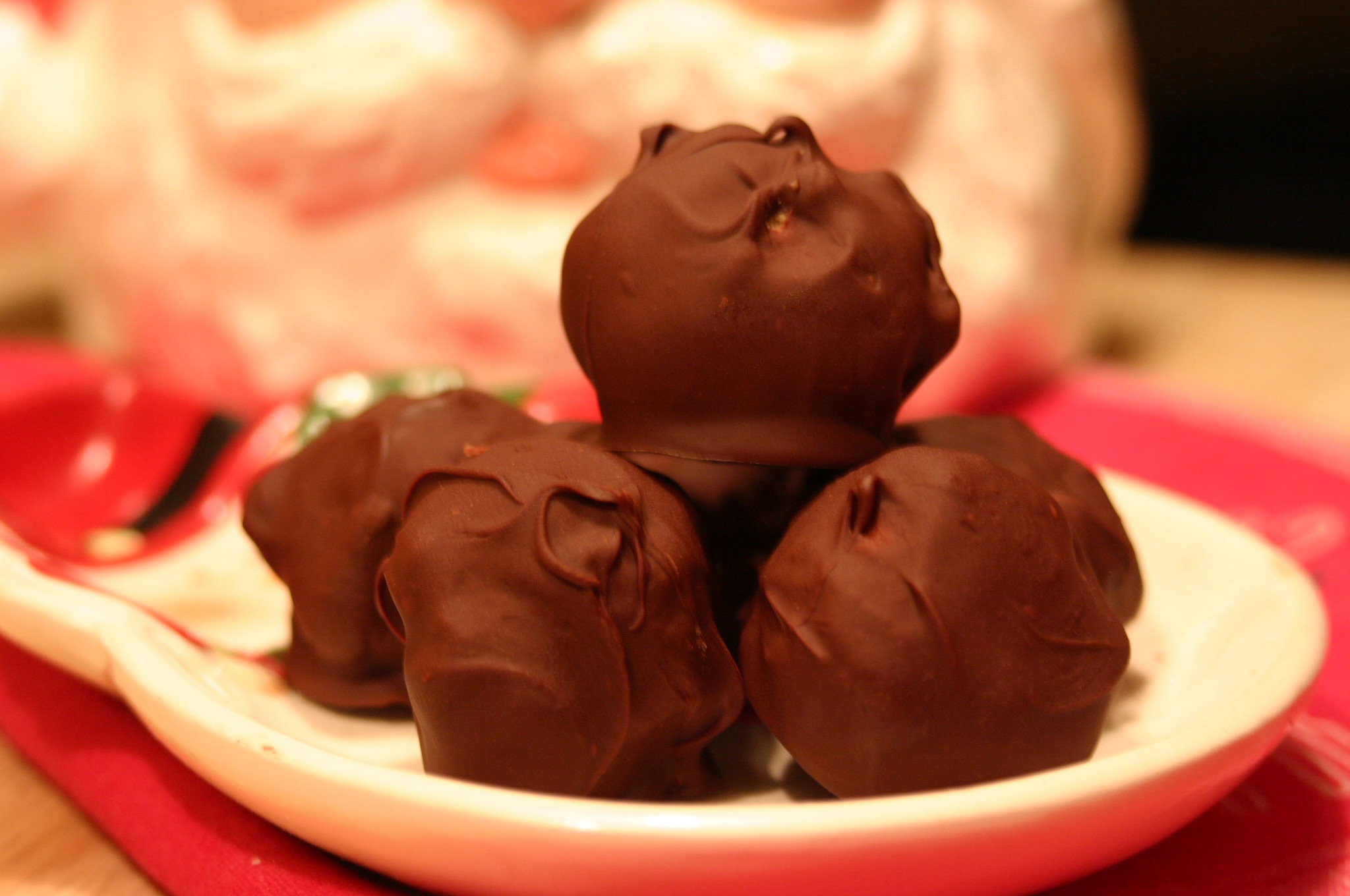 Like all of my other goodies, these would make a great gift. Put a few of these in a little chocolate box tied with a ribbon and you have a great little gift.