So? It is the 13th of December and I bet most of you have sent out your Christmas cards already? Not me… Nope… Not even close. What to do? Run out to the store and buy a box of cards? Nah. Snap an impromptu picture of the family and then make photo cards? Uh-uh, did that last year (I think.) I know… I will raid my favorite card makers supply room and make my Christmas cards. Just so you know, favorite card maker = my mom. I am hoping she will share some of her cards with us periodically.
For this year's cards I wanted to focus on simple and easy. With my schedule, I can't spend too much time on any one particular project, so simple is my motto. I will be showing you two different cards that go well together.
As with cooking, gather your supplies so your project is easier to conquer. There is nothing more frustrating than having to find a particular supply when you need it. All of these supplies should be available at your local craft store. You may not be able to find the exact same stamps, but you can use what is available.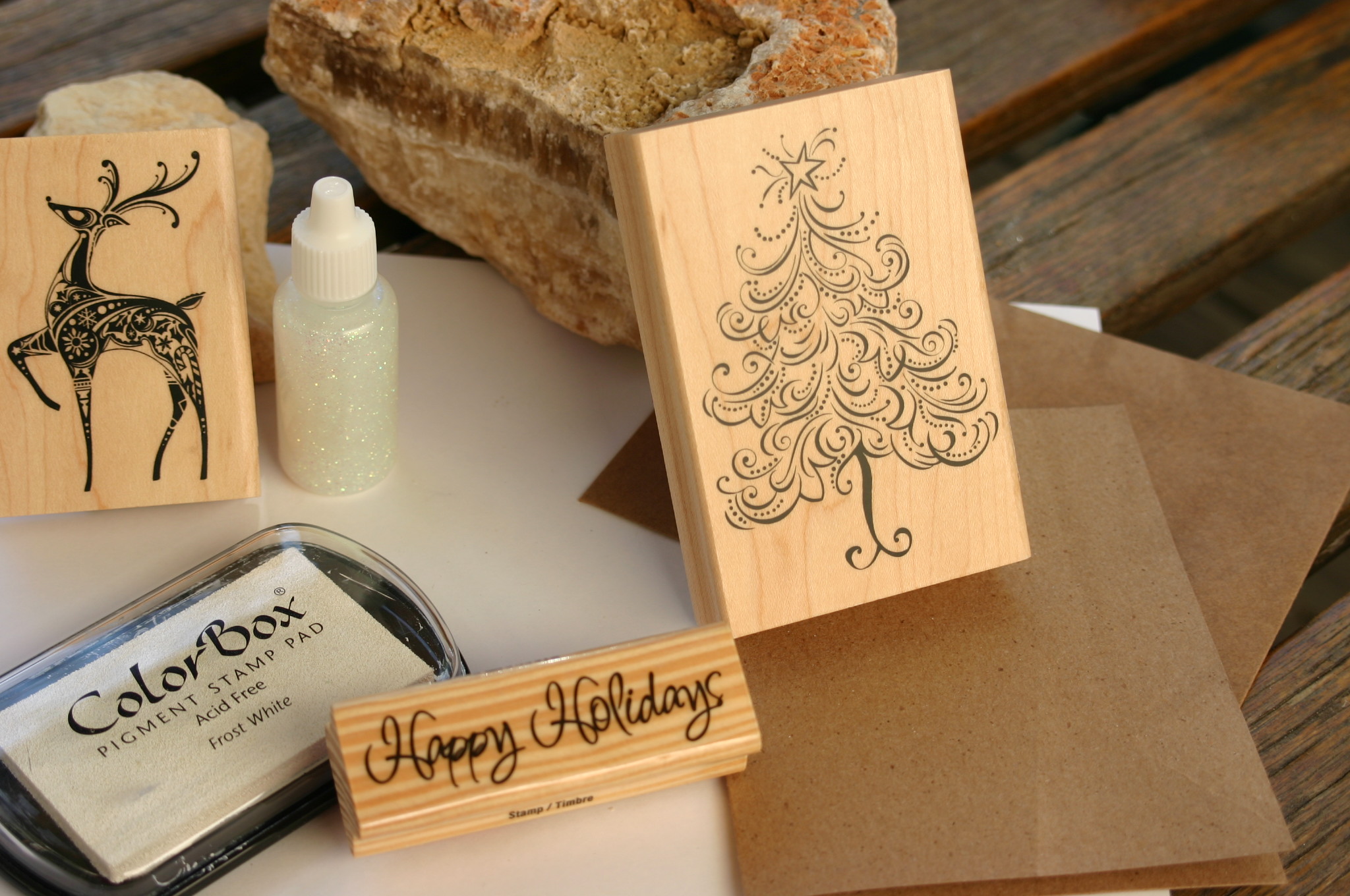 5×7 blank Greeting Cards with Envelopes, brown
ColorBox ink, frost white
Uniball Signa Broad Pen, white
Glitter glue, iridescent
Inkadinkadoo Reindeer stamp, Christmas Tree stamp, and Happy Holiday stamp
Baby wipes
1.) Ink your stamp very well.
2.) Very carefully line your stamp up over your card and then gently place stamp on card stock. Do not rock your stamp, firmly press down on all areas of your stamp. We found it works best if we are standing, that way we were absolutely sure to get pressure on all areas of the stamp.
3.) Clean your stamp immediately after stamping your cards before continuing on. You can use baby wipes to clean your stamps.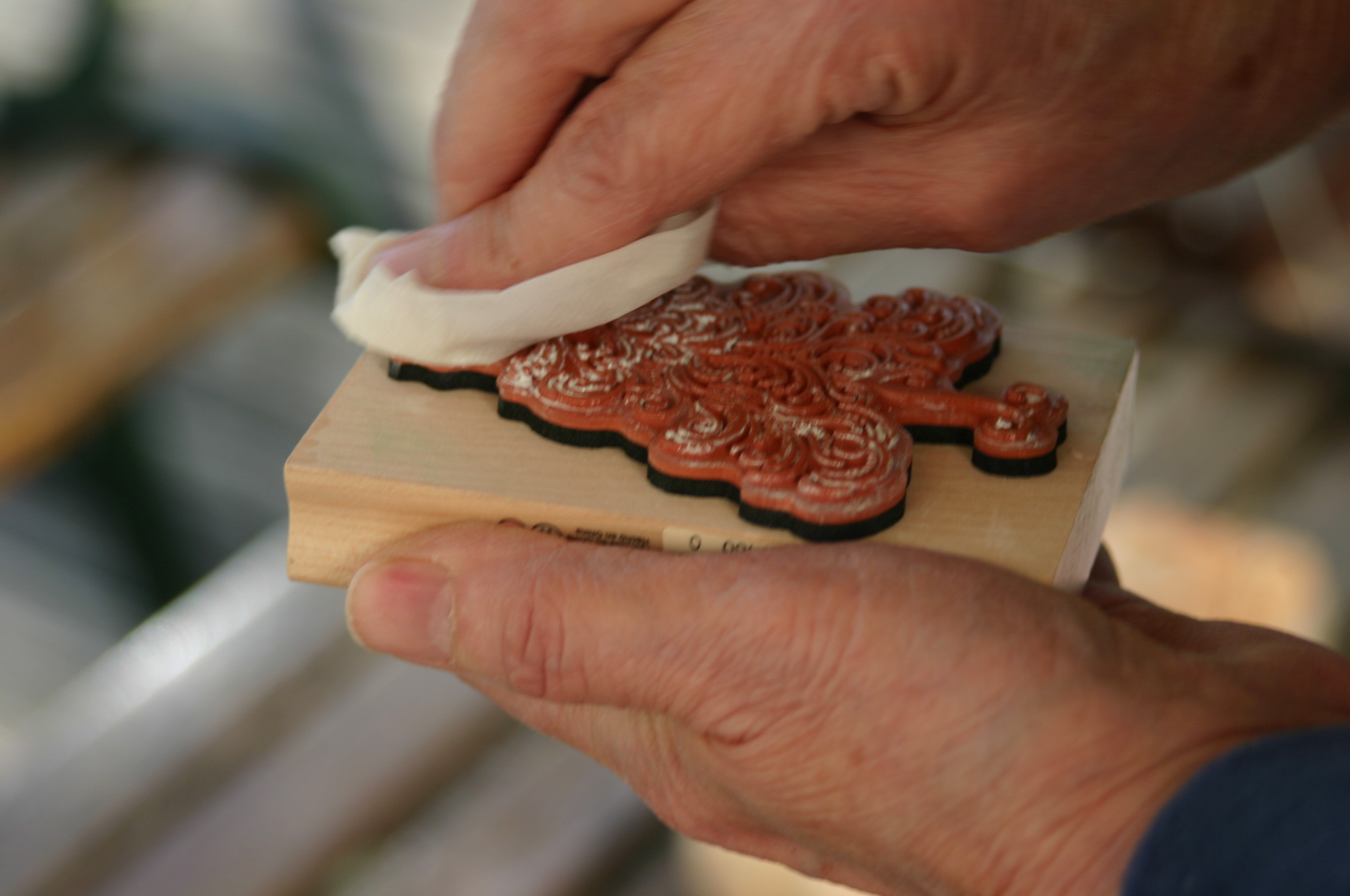 Here is what your cards might look like after stamping, before moving on to the other areas.
4.) Now on the Christmas Tree card, stamp Happy Holidays on the inside. On the Reindeer card, stamp Happy Holidays under the reindeer.
5.) Use the glitter glue to fill in the star atop the Christmas Tree, and place a dot of the glitter glue on the tip of the reindeer's antlers.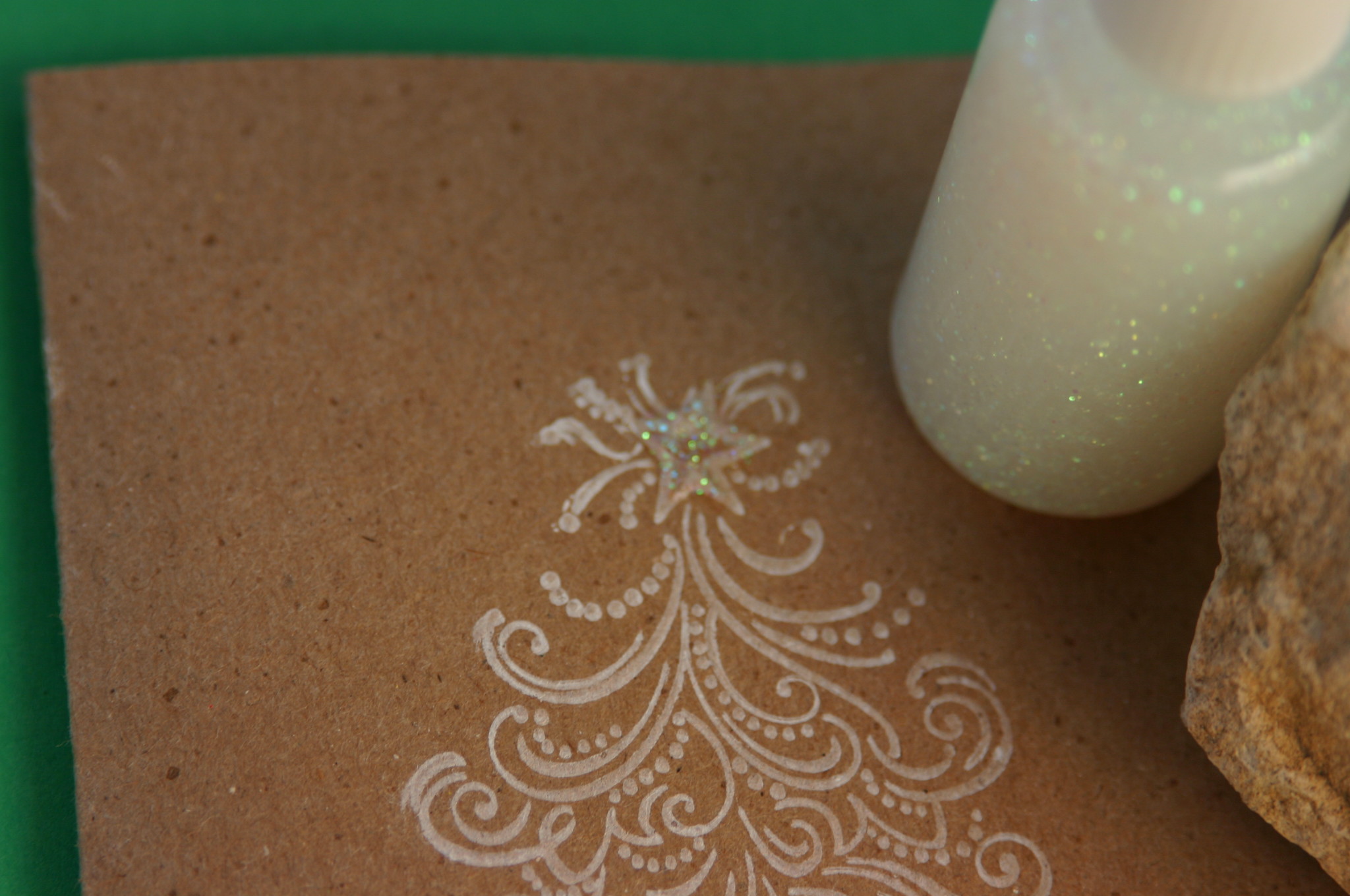 6.) For an added touch to your holiday cards, decorate the outside of the envelope as well. Use your stamp and ink about 1/2 of it and stamp the edge of the envelope. For the Christmas Tree stamp it on the left-hand side of the envelope, for the Reindeer stamp it on the right-hand side of the envelope.
6.) Now, last but not least sign your card and address your envelopes! I would use the Uniball pen in white. It looks so nice.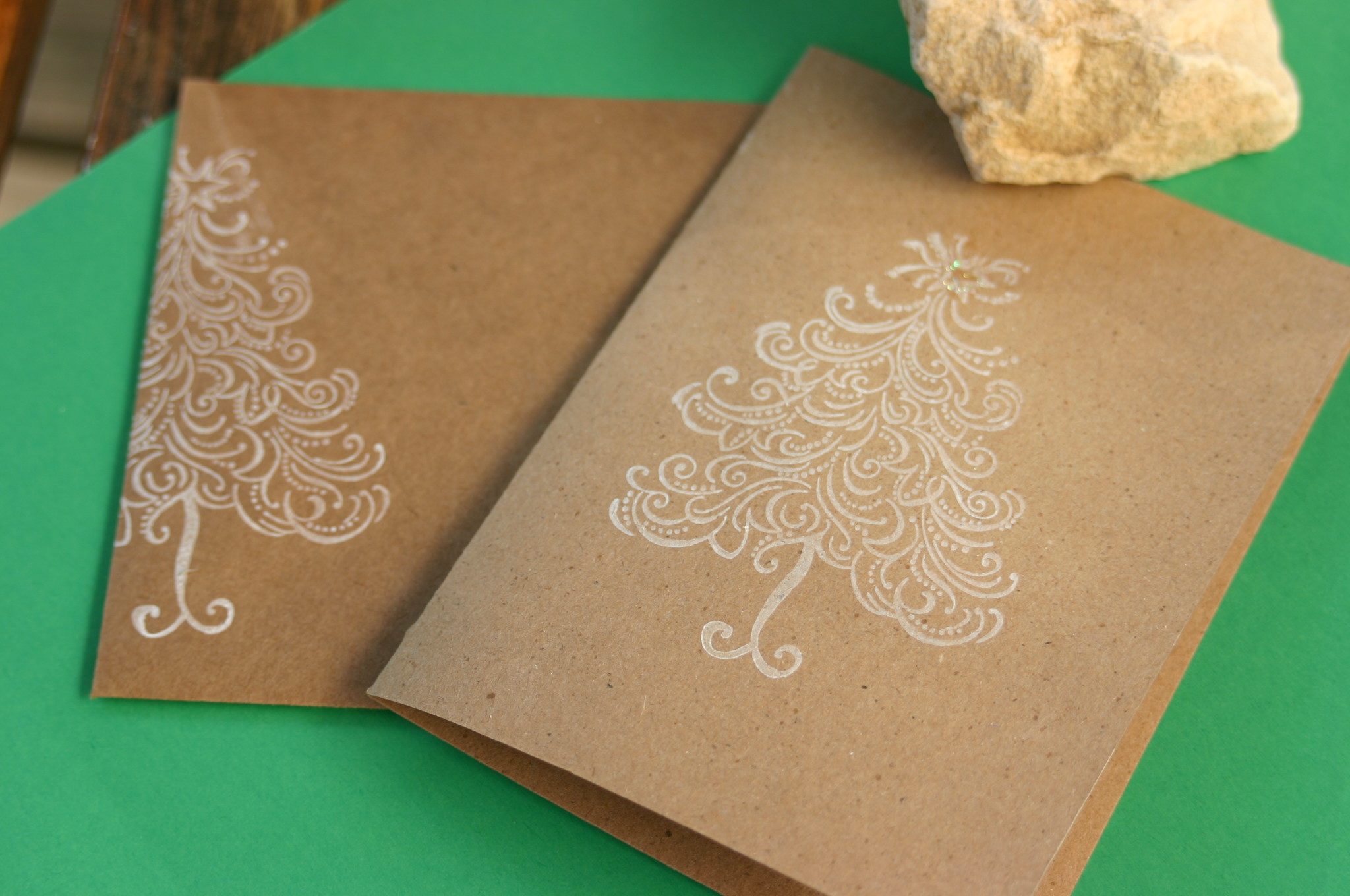 Completed Christmas Tree card.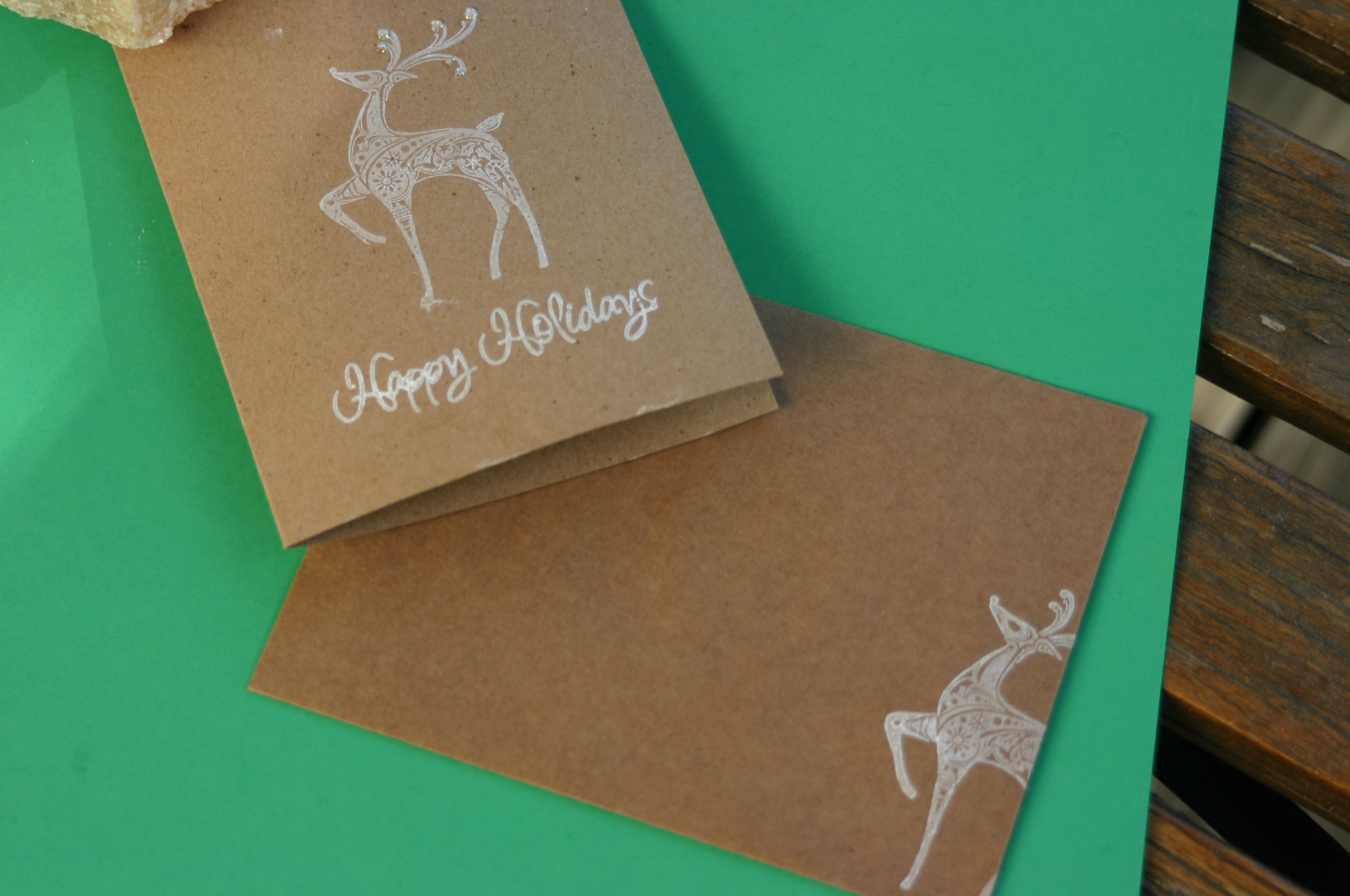 Completed Reindeer Christmas card.
Since you have done such an amazing job on your cards, do not forget to mail them. Your friends and family will be impressed.