Peppermint, peppermint, peppermint. I love peppermint. When I was pregnant with my daughter I taught 3rd grade and all of my students knew my affinity for peppermint, so at Christmas I received all things peppermint. I was ecstatic. I still love peppermint. In fact, every morning while I work on my blog and help my son with his school work I drink my peppermint coffee, if it is late at night and I am snuggling on the couch watching t.v. I drink my peppermint tea. So in honor of all things peppermint I bring you my peppermint bark, my favorite holiday treat.
Peppermint bark is probably one of the easiest treats to make. It takes a bit before you can enjoy it, simply because of the chilling time, other than that it takes no time at all to whip together.
With any chocolate candies you can use molds to make them into shapes, or spread them in a pan and break it apart when cooled. You will find that for my treats today I used a flat pan and I used mini-cookie cutters. The cookie cutters work just as well as the plastic molds you can buy, but they are more versatile.
Peppermint Bark
As usual, gather all of your ingredients, this will make your life a lot easier in the end.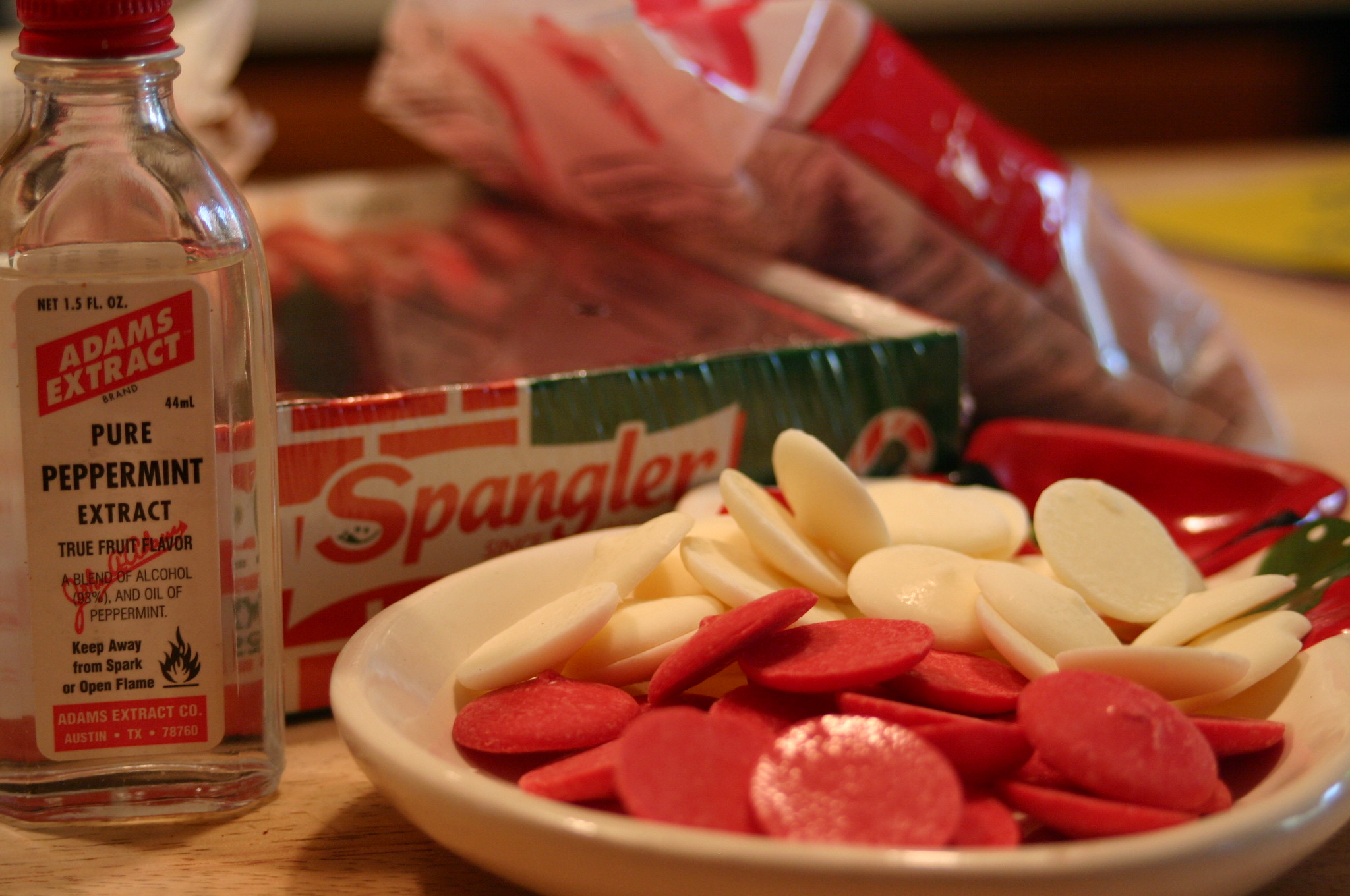 1 bag Wilton's White Chocolate Melts (you could use white chocolate chips)
1 bag Wilton's Red Chocolate Melts (you could use semi sweet chocolate chips)
1 tsp peppermint extract (may increase/decrease based on desired taste)
1 box candy canes
1.) Prepare your pan with parchment paper – if using cookie cutters get those laid out, if using a cookie sheet spray the parchment paper with cooking spray.
2.) Place red chocolate in a microwave safe dish. Melt according to package directions – 1 minute at 50% power then stir, continue to microwave for 30 sec. intervals at 50% power until completely melted.
3.) Stir in peppermint extract.
4.) If using a mold or  cookie cutters, use a ziploc bag and fill with the melted chocolate, snip off an end and pipe the chocolate into the molds or cookie cutters. If using a pan, simply spread the chocolate evenly in pan.
5.) Tap the pan gently on the counter to remove air pockets. Then place in the refrigerator for about an hour.
6.) Crush all of the candy canes. I put them in my blender and crushed them, however, you could put them in a ziploc bag and crush with a rolling pin.
7.) Melt the white chocolate as described in step 2, and either pipe or spread the chocolate, and tap the pan gently to remove air pockets.
8.) Sprinkle the crushed candy canes over your chocolate and lightly press into it.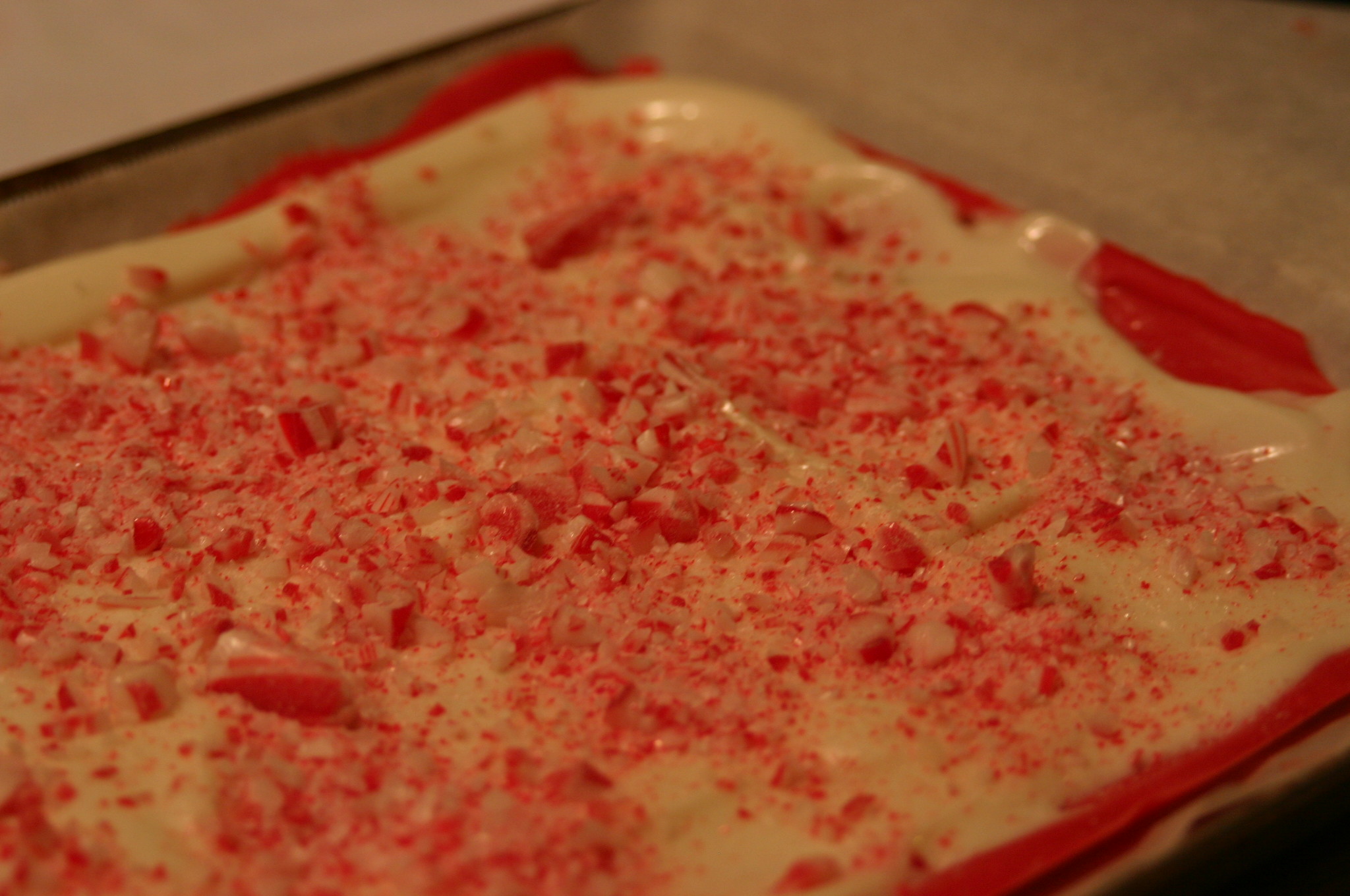 9.) Refrigerate for an hour, then remove the chocolate from the molds or cookie cutters, and if you made it in a pan break the chocolate into chunks.
Not only are these extremely easy to make, if you wrap them in pretty tissue paper or put them in a nice tin they make great gifts.